For over 40 years, HIFF has presented the best in international cinema to Hawai'i cineastes. Join HIFF Selects and have the best international and independent films delivered directly to you for a true film festival experience year-round.
HIFF SELECTS is a subscription program featuring a carefully curated new film each month, along with exclusive bonus features.
Films will be offered monthly on HIFF's streaming platform at
watch.hiff.org
. 
STREAMING ONLY AVAILABLE IN THE U.S.
SUBSCRIBERS RECEIVE:
Monthly Subscription: $9.99 a month or $7.99 for HIFF 'Ohana / Annual Subscription: $90 for one year HIFF Selects Membership*
An award-winning feature film each month streaming exclusively for HIFF Select subscribers

Curated films may come with special bonus "Why We Selected" explanation, Director's Statement, or virtual Q&A

Exclusive club emails & gift offers only available to our subscribers

Subscribers are eligible for special discounts and deals
OCTOBER HIFF SELECTS FILM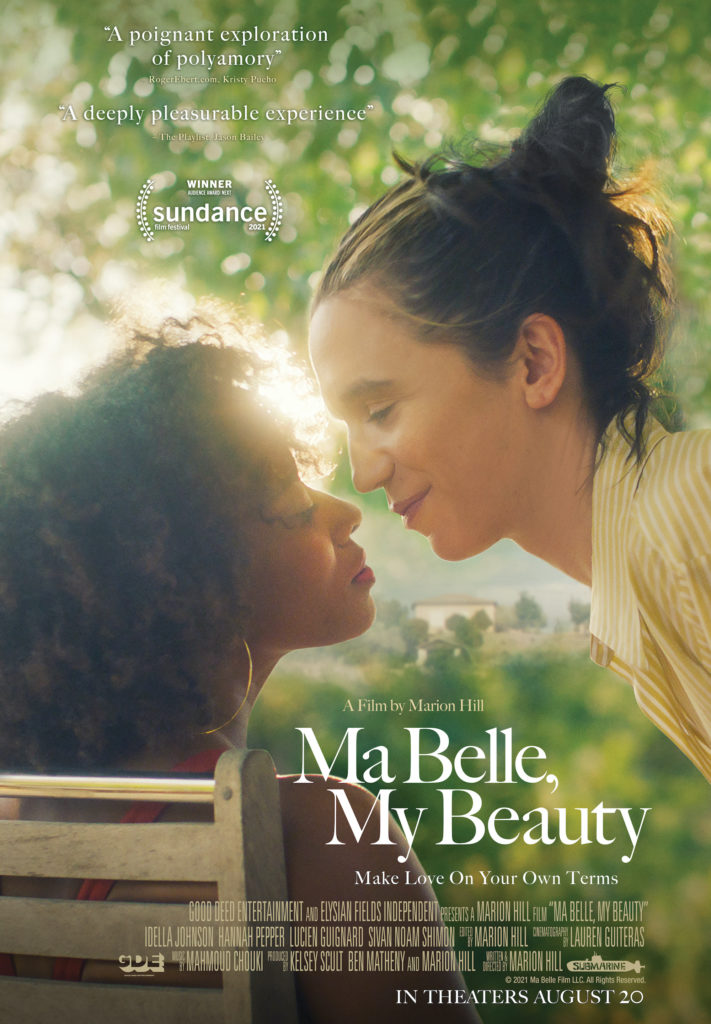 MA BELLE, MY BEAUTY
Director: Marion Hill
Year: 2021
Country: United States, France
Language: English
Genre: Drama, Romance
Running Time: 93 Minutes
Synopsis: Sundance Audience Award winner MA BELLE, MY BEAUTY is an intimate portrayal of two women, reunited in the South of France, trying to pick up the pieces of their former romance.
Lane, Bertie and Fred once shared a polyamorous relationship in New Orleans. Lane loved Bertie, Fred loved Bertie, they had a balance that worked… until it didn't, and Lane vanished from their lives. Bertie and Fred (both jazz musicians) have now married and moved to the French countryside to focus on their music careers, but Bertie has lost her inspiration and Fred, just weeks out from their joint music tour, is quietly desperate to get Bertie back in the groove.
Fred invites Lane for a surprise visit, hoping her return will spark something in Bertie. But as Lane attempts to recreate their old, carefree dynamic, unresolved tensions quickly surface. After a chance meeting at a party, a jilted Lane turns her attention to a beautiful young artist. Soon, jealousies and passions ignite in equal measure.
A nuanced and aching exploration of the complexities of love set against the sun-drenched and wine- soaked vineyards of Southern France, Ma Belle, My Beauty takes viewers on a trip they won't soon forget.
PROGRAMMER'S NOTE FOR MA BELLE, MY BEAUTY
Anderson Le // October 1, 2021

MA BELLE, MY BEAUTY was one of my top highlights at Sundance earlier this year. The feature directorial debut of Marion Hill is a sumptuous, alluring and sensual film that is all about longing: longing for connection, longing for artistic expression, longing what for what used to be. Trying to enter the past, thinking that what you are looking for is in the rear-view mirror, is a losing situation, as the three main characters, who once were a 'throuple,' discover. Everyone, seemingly, has moved on, with Bertie and her French husband Fred decamping from New Orleans to his family's home in the French countryside. However, Lane, the "third" in this former polyamorous relationship, suddenly shows up on their front door, because she was "in the area." They have not spoken since the breakup.
What ensues is a journey of regrets, artistic malaise, rekindled romances, new romances, and potent sexual energy, all set in the idyllic south of France, among sunny vineyards, genteel streams, beautiful country houses, interesting characters and dinner parties with bottomless carafes of wine.