DKII FUTURE FILMMAKER CONTEST
As we partner with organizations like the Daniel K. Inouye Institute, we work to build a better future by working with students and young filmmakers who have a powerful voice to reimagine a new world. Each year this contest has a new theme. Student finalists selected to showcase at HIFF will also have the opportunity to meet a celebrity youth ambassador in a private Q&A discussion and Awards Ceremony. Past guests include actors Phillipa Soo, Jacob Batalon, and Harry Shum, Jr.
2021 Theme: "The Greatest Generation & the COVID Generation: Hope & Resiliency in Unprecedented Times"
Young Americans who are coming of age in a time of the COVID-19 pandemic are faced with unprecedented challenges and isolation. Similar to those of the "Greatest Generation," or those who were shaped by the Great Depression and World War II, how will youth of the "COVID Generation" now decide how history will define them?  For this year's prompt, we want to hear from students, through the lens of resiliency and hope, what will it take for us as a state, a nation, and a world to move forward?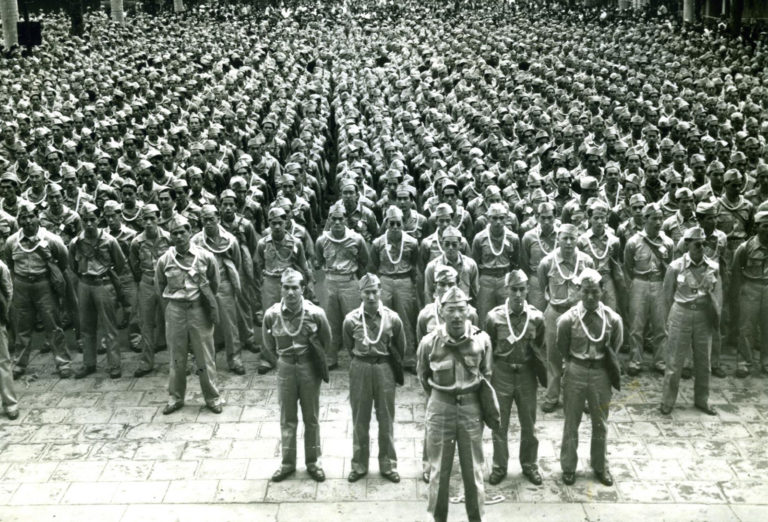 We are closely monitoring the COVID-19 situation and are taking the necessary precautions to ensure the health and safety of our community. We ask students to stay safe while filming and preparing their submission.
All interested students in grades 6th-12th in Hawai'i are invited to submit to this open call. To get started, please sign-up on the contest form to prepare your submission at: https://tinyurl.com/DKII2021
Your short film can be a narrative, documentary, animation, PSA, etc that answers the contest prompt above. For ideas and inspiration, please check out student films that were showcased last year: https://vimeo.com/showcase/7872471
Students may create a short film individually or with a group of up to 5 other students. We welcome collaborations with other schools.
The short films must be at least 1 minute in length and up to 5 minutes max.  
Films may be made with a smartphone, tablet, or digital camera. Zoom record, Tik-Tok, or animated films are also welcomed. Get creative!
Be sure to join us for a series of fun summer workshops online that kicks-off with a VIP guest! This will be a great way to meet other students and get ideas and guidance for your film submission.
Films must be submitted on HIFF's FilmFreeway page under the "

DKII

 Future Filmmakers" at: https://filmfreeway.com/HIFF.  There is no entry cost to submit.
The deadline to submit is Monday, September 17, 2021.
For any questions, please contact Education Coordinator, Jen May Pastores, at  jenmay@hiff.org 
Students whose films are selected for the 2021 Future Filmmakers Showcase will be invited to a special presentation screening and post-screening Q&A session with audience members during HIFF's 41st Fall Festival in November. During the Festival, they will also be invited to a private luncheon with a VIP guest and an Awards Ceremony where winners will be announced. 
Middle and high school students are invited to join us for a series of summer workshops to help you prepare your film submission! Sessions will take place in July and August on Zoom where students will have an opportunity to connect, get ideas and tips for their submission, and learn from local award-winning filmmakers and past student winners. The series will kick-off with a special session with a VIP guest!
2020 DKII FUTURE FILMMAKERS SHOWCASE WINNERS
Congrats to the winning student films who participated in HIFF's 
DKII

 Future Filmmakers contest! All finalists were invited to meet this year's Youth Ambassador, actress and singer Phillipa Soo (OVER THE MOON and Broadway musical HAMILTON star), and the following winners were announced by our special guest, Ken Inouye. Check out a recording of the Awards Ceremony below.
1st Place, High School
Devan Fujinaka, Iolani School, WITH LOVE
2nd Place, High School
Tiffany Liu, Campbell High School, LIGHT
1st Place, Middle School
Miley Cox, Waimea Middle School, MY LETTER TO THE AMERICAN PRESIDENT
2nd Place, Middle School
Isabella Rose Ciera, Isabella Rodriguez, Luc Giusto, Ewa Makai Middle School, DEAR FUTURE PRESIDENT
Originality Award 
Noah Raquino, Punahou School, PIECE OF CAKE
The Daniel K. Inouye Institute was established in 2013 to preserve Senator Inouye's papers and tell his life story; support STEM education, civics learning and international educational-cultural exchanges; and establish a repository of the Asian American/Pacific experience.
This contest is also supported by the YOMYOMF Foundation, which supports Asian Pacific American artists as well as artists from other traditionally underrepresented communities who wish to pursue careers in film, TV, theater and new media.