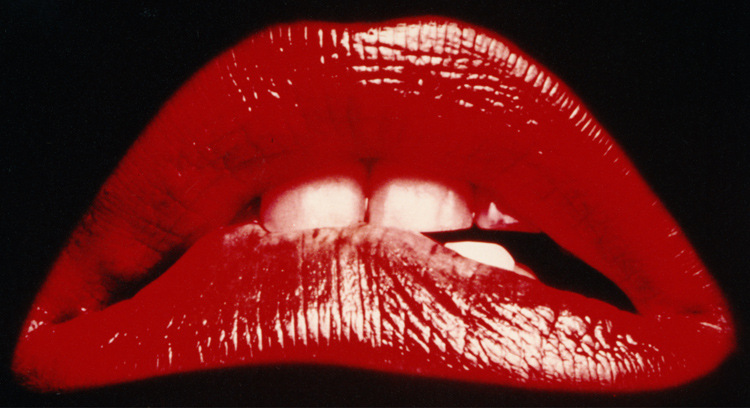 The world's first comedy horror film is thought to be ONE EXCITING NIGHT (1922), which was written, directed, and produced by D.W. Griffith.  As the last century added a profound amount of films to this genre, it is valuable to observe why the comedy horror genre has survived in cinemas for this long.  Despite being written off as cheap, corny, and simply "not scary enough," comedy horrors tend to be dragged through the mud when it comes to professional reviews.  The term, "camp," is often thrown around and used to measure one's willingness to watch a film.  While camp typically comes with a negative connotation, it seems to be a theme that many comedy horrors embrace with open arms.  Here, I will dissect how comedy horror continues to be such an effective genre and how it uses camp to its advantage.  
The genre of comedy horror is broad, as each film has a varying level of humor and scares.  On one hand, a comedy horror film can be filled with jump scares, gore, and horrendous special effects makeup, with the only sprinkle of humor being the film's self awareness.  KRAMPUS (2015) exemplifies this end of the spectrum, with a series of gruesome deaths that are made slightly humorous due to the methods of murder being Christmas themed.  These films are often the horror thrillers made for teen and young adult audiences, that get raked over the coals when the ironic humor in it is too obscure to recognize.  On the other hand, a comedy horror can be loaded with hilarious characters and merely contain a spooky theme.  Think Catherine O'Hara and Jeffrey Jones getting possessed and singing "Day-O" (The Banana Boat Song) in BEETLEJUICE (1988).  These tend to be the films that people refer to as "childhood favorites" and "halloween classics," as the horror aspects are digestible enough for younger audiences and therefore, become nostalgic as viewers age.  
While horror and comedy seem to be an unlikely combination, scares and laughter work in tandem.  Laura Smith of ReelRundown explains that it's similar to experiencing a rollercoaster.  The tension of anticipation and fear that occur before and during the ride is released through laughter as the ride pulls to a stop.  The thrill is only enjoyable when you are no longer at risk of being thrown from a moving coaster.  Therefore, the constant build and release of tension in comedy horror movies creates a pleasurable experience for many.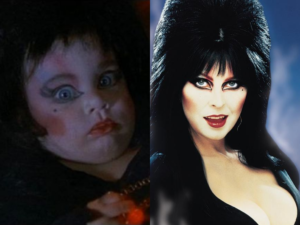 Another factor of enjoyment comes from the "campiness" of a film.  Camp is traditionally defined as something that is over-the-top, dramatic, and extravagant.  While this term is most commonly tied to fashion, it is also present in other forms of expression, including film.  Camp is also tied to ironic humor and self awareness.  J. Bryan Lowder explains that when people dress or act in a way that is considered camp, it "conveys a certain cultural knowledge, an embarrassed self-consciousness of that knowledge, and, mediated through "hipster irony," a half-hearted apologia for that knowledge."  With the amount of low-budget, half-baked horror movies on the market, it makes sense that filmmakers frequently recreate satirical interpretations of them.  When I think of camp, I imagine a scene from ELVIRA: MISTRESS OF THE DARK (1988) where she flashbacks to a moment of her childhood, only to uncover a baby with a face full of heavy goth makeup, in a perfect imitation of Elvira's current makeup style.  The shock value of the baby's eerie face was humorous, especially when I expected a sentimental flashback to Elvira's past.  I also recall a scene from THE ROCKY HORROR PICTURE SHOW (1975) where the characters, shocked to see each other, call out each other's names.  In a span of 15 seconds, the script goes as follows:
Dr. Scott: Janet!
Janet: Dr. Scott!
Brad: Janet!
Janet: Brad!
Dr. Frank-N-Furter: Rocky!
[Rocky turns toward Dr. Frank-N-Furter]
Dr. Scott: Janet!
Janet: Dr. Scott!
Brad: Janet!
Janet: Brad!
Dr. Frank-N-Furter: Rocky!
[Rocky turns toward Dr. Frank-N-Furter]
Dr. Scott: Janet!
Janet: Dr. Scott!
Brad: Janet!
Janet: Brad!
Dr. Frank-N-Furter: Rocky!

[Rocky turns toward Dr. Frank-N-Furter]
While some may call it a cheap shot at humor, I thoroughly enjoyed this scene.  The overexaggerated exclamations from each character are the kind that's only seen in the cheesiest of movies.  Furthermore, the pregnant pause that takes place after each time "Rocky!" is called, forces the viewer to anticipate whether or not another round of name calling will begin.  Personally, silly bits like these are what make campy movies fun to watch.  Nonetheless, there are many other ways for camp to be enjoyed.  Some find more amusement in bad special effects and movie monsters that fall short of being scary due to budget limitations.  Others find horrible acting or writing with a lot of plot holes entertaining.  Regardless of whether the low quality of a film production was intentional, people enjoy "hate-watching" and watching campy films ironically.
We cannot discuss comedy horror films without acknowledging the cultural icons that stemmed from them.  The musical themes from THE ADDAMS FAMILY (1991) and GHOSTBUSTERS (1984) can be recognized within seconds and are played at numerous events every October.  Children don Ghostface masks from SCREAM (1996) during trick-or-treating, while teenagers recreate Megan Fox's iconic outfits from JENNIFER'S BODY (2009).  Many comedy horror movie characters have been adopted by the LGBT community as "queer icons," due to many of them being misunderstood and portrayed as strange by the "normal" people within the film.  Dr. Frank-N-Furter (THE ROCKY HORROR PICTURE SHOW, 1975) takes the cake with this title, as he is one of the most iconic queer characters in not only horror, but movie history as a whole.  
Like all films, comedy horrors use their storylines to teach valuable lessons.  Because the comedy aspect of the genre opens the viewing demographic to younger audiences, some comedy horror films teach simple concepts, such as family values or teamwork.  Others, especially those made for more mature audiences, take on complex ideas, especially those that were considered taboo in the time it was released.  ELVIRA: MISTRESS OF THE DARK (1988) and THE ROCKY HORROR PICTURE SHOW (1975) both preached sex positivity in a largely conservative time.  The former focuses on themes of feminism and unapologetically being yourself, while the latter challenges preconceived notions around gender identity and homosexuality.  From iconic outfits to progressive takes on society's treatment of certain demographics, comedy horror films challenge pop culture norms.
No matter how much we like to rag on "camp," it is an inevitable source of enjoyment for all audiences.  Although some may attest campiness in comedy horror films, they may thoroughly enjoy it in reality TV dating shows and other things people watch "ironically."  Therefore, because comedy horror has become a guilty pleasure for many, it is a genre that is not going to disappear soon.  For every cheap trick and horribly VFX-ed creature is a lighthearted moment or overarching theme for audiences to take away.  
Kanani Sato has served as an Outreach Intern at the Hawaii International Film Festival since 2021. Her interest in film stems from her love for costume and set design in movies and television. She is a strong advocate for diversity in media and strives to project Asian American and Pacific Islander voices in Hollywood.