SOLD OUT // Hawaii International Film Festival Awards Gala
THIS EVENT IS NOW SOLD OUT. MAHALO FOR YOUR SUPPORT.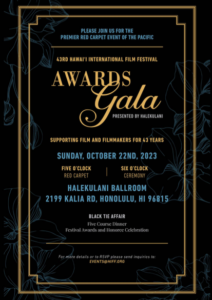 You are  cordially invited to attend the beloved Hawaii International Film Festival Awards Gala presented by Halekulani on Sunday, October 22, 2023 ni the stunning Halekulani Ballroom. Known as the premier red-carpet event of the Pacific, our HIFF Awards Show spotlights the best talent and cinema in Asia, the US, and the Pacific with celebration and glamor. The Gala hosts esteemed special guests of HIFF, announces the HIFF43 competition award-winning films, and will also honor the union strikes affecting the film industry and champion the voices of our creatives on Maui who are working to amplify the stories of those affected by the wildfires and who are working to rebuild their community.
This black-tie affair in celebration of emerging and world-renowned talent will feature international and local celebrities, a five-course dinner from Halekulani's award-winning chefs, and more awards presented than ever before with new categories for Environmental films, Pacific Island films, Hawaii University films, and the Jeannette Paulson Legacy Award. As an Academy Awards® qualifying film festival for our Best Short Film and Made in Hawaii Short Film Awards, these HIFF award winners now can qualify to be nominated for the Oscars.
Producer Table:
• Seated with HIFF Special Celebrity Guest or Honoree
• Premium Wine + Champagne
• Ten (10) Seats at the table for you to invite special guests + Two (2) Seats for
HIFF Special Celebrity Guest or Honoree
• Ten (10) One-Year HIFF Selects Memberships
• Special premium gifts for attendees
• HIFF Donor Acknowledgment Package for HIFF44
• Logo/Text Acknowledgment on website
• Mahalo Ad-Slide prior to all in-theater HIFF44 screenings
• Opportunity to donate product for attendee gifts
Director Table:
• Seated with Visiting Director or Filmmaker
• Premium Wine
• Eight (8) Seats at the table for you to invite special guests + Two (2) Seats for
Visiting Director/Filmmaker
• Eight (8) One-Year HIFF Selects Memberships
• Special gifts for attendees
• Donor Acknowledgement in Gala materials
Jury Table:
• Seated with HIFF Jury Member
• Premium Wine
• Eight (8) Seats at the table for you to invite special guests + Two (2) Seats for
HIFF Jury Members
• Special gifts for attendees
• Donor Acknowledgement in Gala materials