The Hong Kong Economic Trade Office of San Francisco (HKETO)
SPOTLIGHT ON HONG KONG: DANIEL WU THE ACCIDENTAL MOVIE STAR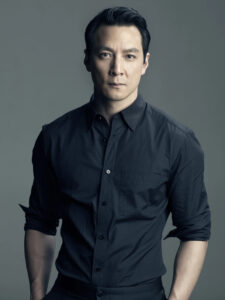 Daniel Wu is a Hong Kong American actor, director, producer, and race car driver, best known for his work in both Asian and Western cinema. He has appeared in numerous films throughout his career, showcasing his versatility as an actor and his dedication to his craft. Wu has won critical acclaim for his performances in various genres, including action, drama, and comedy. But, being a bonafide movie star in Hong Kong, China, and now America, was more happenstance than an intended career path. A native of Northern California, Wu embraced his Chinese roots and studied the wushu form of martial arts while attending school and graduating with an Architecture degree. Traveling abroad in Hong Kong as a young adult, the strikingly handsome Wu was approached about modeling, with acting offers soon following.
Quickly ascending the ranks of the Hong Kong film world despite being unfamiliar with Cantonese, Wu started his acting career with lauded auteurs like Yonfan (BISHONEN, 1998), Andrew Lau (THE YOUNG & DANGEROUS: THE PREQUEL, 1998), and Mabel Cheung (CITY OF GLASS, 1999). Soon after, he appeared in a series of hit movies, including the action film GEN-X COPS (1999) and the thriller PURPLE STORM (1999). He starred in Hong Kong box office hits like NEW POLICE STORY (2004), starring his hero and mentor, Jackie Chan, and ONE NITE IN MONGKOK (2004), a taut crime thriller that won several Hong Kong Film Awards the following year. He even occupied the director's chair with THE HEAVENLY KINGS (2006), an outrageous mockumentary that trails the Hong Kong band boy band Alive, which he was also a member of.
By 2012, Wu returned stateside, starring in major Hollywood films and TV series. He also became active in the Asian Pacific Islander American (API) space, as an activist to amplify awareness of the rise of Asian hate crimes during the global pandemic. He also executive produced documentaries like BLURRING THE COLOR LINE: CHINESE IN THE SEGREGATED SOUTH, directed by Crystal Kwok, which premiered at HIFF in 2022.
An avid car enthusiast as well, Wu's off-screen hobbies soon found him in the seat of a Honda Civic, exploring the world of racing, eventually, even finding himself in his first endurance racing championship for National Auto Sport Association (NASA). Daniel is now a dedicated family man, currently residing in Los Angeles, forging a new path as a role model for a new generation of API and the Asian diaspora.
IN BROAD DAYLIGHT
HAWAI'I PREMIERE HONG KONG SAR CHINA 2023 | CANTONESE WITH ENGLISH SUBTITLES | 106M DIRECTOR: Lawrence Kwan Chun Kan
NOMAD (Director's Cut)
SPECIAL PRESENTATION HONG KONG SAR CHINA 1982 | CANTONESE WITH ENGLISH SUBTITLES | 94M DIRECTOR: Patrick Tam
ONE MORE CHANCE
HAWAI'I PREMIERE HONG KONG SAR CHINA 2023 | CANTONESE WITH ENGLISH SUBTITLES | 115M DIRECTOR: Anthony Pun
ONE NITE IN MONGKOK (Daniel Wu Tribute)
SPECIAL PRESENTATION HONG KONG SAR CHINA 2004 | CANTONESE WITH ENGLISH SUBTITLES | 110M DIRECTOR: Derek Yee
THE WHITE STORM 3: HEAVEN OR HELL
HAWAI'I PREMIERE HONG KONG SAR CHINA 2023 | CANTONESE WITH ENGLISH SUBTITLES | 100M DIRECTOR: Herman Yau