Aloha Drive-In Movies screenings are back! The popular drive-in event is presenting two films every Friday and Saturday at Ala Moana Center all through February. Both films presented each night share a theme–i.e. "Black History Month: We Need A Hero" for SPIDER-MAN: INTO THE SPIDERVERSE and BLACK PANTHER on February 5 and BILL & TED'S EXCELLENT ADVENTURE and JOHN WICK 3 for "#Keanuthon" on February 6. Check out the full schedule and themes for each night.
To sweeten the programming, HIFF is partnering with ADIM to present some of our favorite Hawai'i-made short films as part of each screening event.  Starting this week, HIFF39 Audience Award Winner HAE HAWAI'I (Friday, February 5 at 9:00pm, preceding BLACK PANTHER) and HIFF40 Made in Hawai'i and Audience Award Winner HAWAIIAN SOUL (Saturday, February 6 at 8:30pm, preceding JOHN WICK 3) kick things off for an entire month celebrating locally made, independent cinema!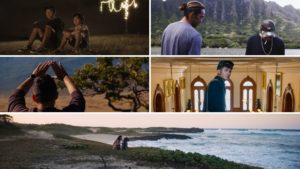 Below is the local shorts screening schedule:
You must buy a ticket to the feature to watch the short. To pre-order your ticket, click on the film titles above or head over to Aloha Drive-In Movies website.