BROKER was an official selection of the 42nd Hawai'i International Film Festival presented by Halekulani. The film will be released commercially in select U.S. theaters in late December. 
HIFF ONLINE CREATIVES & CRITICS IMMERSIVE (HOCCI) mentee Jim Fahey sits down with Leo Williams, a NY-based film critic, to discuss about the HIFF42 Closing Night Film BROKER directed by Hirokazu Kore-eda. It's an interesting conversation as this is Jim's first Kore-eda film, while Leo is familiar with the director's previous work as they touch upon the humane touchstones in his film and the pros and cons of cross-cultural authenticity in his second non-Japanese film.
Listen to their review in the latest episode of the HIFF TALKS podcast: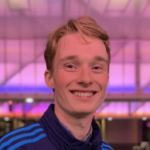 Jim Fahey is an emerging film critic and curator who just entered the industry as the Assistant Director of the Common Good International Film Festival, based out of Claremont, CA. He has spent the past year building his resumé at the University of Edinburgh, where he completed a Master's program in Film, Exhibition & Curation. During that time he served as a film critic for The Student, the longest-running student newspaper in the UK, and also began Airplane Mode, a film-review blog currently available on Substack. He is a driven student of cinema and is excited to develop his critical voice at HIFF's Online Creative and Critics' Immersive.

The mission of the HIFF ONLINE CREATIVES & CRITICS IMMERSIVE (HOCCI) program is to encourage film criticism in Hawai'i by using the influencer branding strategies to spark career opportunities in the State and not be hampered by oceans, state borders and distance, because geography is no longer a barrier. Ten mentees participated in this program, giving them press industry access to HIFF42. In addition, the cohort attended mentoring sessions by working critics in the online film journalism community in unique silos: Writing, Podcasting, Video Essays and Vlogging.
Mahalo to DBEDT Creative Industries and Creative Lab Hawaii for their support.