GODDAMNED ASURA was an official selection of the 42nd Hawai'i International Film Festival presented by Halekulani. Warning, this review contains spoilers.
GODDAMNED ASURA (2021, Dir. Lou Yi-an) is a Taiwanese crime drama that takes place twice with two alternative endings. In this movie, we originally follow the storyline of a young rich kid with divorced parents who has no clue what he wants. Trying to decide whether he wants to go overseas for college or stay home and live with his mom, Jan Wen is overwhelmed by the decision he has to make, which leads him to commit a gun attack at a night market. The opening scene begins with cellphone footage of the attack from one of the victim's perspectives, it's panicked and fast-paced and half the time you can't see anything and only hear the people yelling out of fear.
In response to his Asura – demon, Jan Wen committed one murder and was arrested. Rather than admitting his mistakes, his best friend Axing tries to coerce Jan Wen into apologizing to the victim's fiance while faking the murder of his parents. Here we slowly see Jan Asura fade and come out of Axing. He admits that his apology will not resolve anything or change how he feels. The movie switches gears here to an alternative storyline where Axing uses the gun Jan is supposed to use in an empty bridal shop and is later arrested for using it. In Jan's Asura, a stranger is killed, while Axing's Asura results in a completely different outcome.
Despite its well-developed plot, GODDAMNED ASURA never lets the audience predict where it will go. Direction and editing is wonderful, causing you to ask just the right amount of questions without becoming bored. The editing specifically makes it feel like a comic book coming to life since Axing is himself a graphic designer and it's almost like his story was being fulfilled. Asura is described as a demon in Zoroastrian mythology. In this movie, it is explained that everyone is capable of having "Asura" inside of them but it's up to them to decide whether or not to let him out.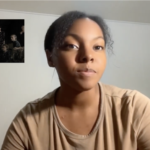 Hi, my name is Mya Frye! I'm a student at Hawaii Pacific University and I study mass communications with a minor in multimedia. Currently I run my own podcast called Doing My Best where I co-host and do the pre/post-production. After graduation, I plan on attending grad school and hope to study film and tv production, while continuing my podcast on post-grad life and independence for young adults. In my freetime I enjoy creating new coffee drinks as well as binging my favorites movies if I have the time.

The mission of the HIFF ONLINE CREATIVES & CRITICS IMMERSIVE (HOCCI) program is to encourage film criticism in Hawai'i by using the influencer branding strategies to spark career opportunities in the State and not be hampered by oceans, state borders and distance, because geography is no longer a barrier. Ten mentees participated in this program, giving them press industry access to HIFF42. In addition, the cohort attended mentoring sessions by working critics in the online film journalism community in unique silos: Writing, Podcasting, Video Essays and Vlogging.
Mahalo to DBEDT Creative Industries and Creative Lab Hawaii for their support.