ALL THE BEAUTY AND THE BLOODSHED was an official selection of the 42nd Hawai'i International Film Festival presented by Halekulani
ALL THE BEAUTY AND BLOODSHED tells the story of an artist caught in political warfare fueled by federal denial of Big Pharma and the blood money that funds it. Director Laura Poitras celebrates authenticity by encapsulating the life, art, and activism of Nan Goldin and her organization P.A.I.N. (Prescription Addiction Intervention Now) through retrospective slideshows, personal interviews, and protest footage. What transcends the limitations of a biography materializes a radically raw cinematic portrait of Nan Goldin as a prolific photographer and proactive leader of communities historically victimized by government neglect.
The documentary opens with a seemingly ordinary group entering the prestigious Met Museum in New York, where most who enter the Sackler Wing seldom question the identities or affiliations of the people it was named after. However, it is not an ordinary day for museumgoers when P.A.I.N. pays a visit. P.A.I.N. is a collective of artists, activists, and recovering addicts led by famed photographer Nan Goldin seeking institutional accountability by the manufacturers of the opioid crisis and the establishments that benefit from their toxic philanthropy. In commemoration of these victims, families, and communities rocked by grief, the P.A.I.N. protestors launch prescription bottles into a nearby fountain and condemn the corporate greed of companies like Purdue Pharma, who profited heavily from the opioid crisis. From the commotion ensues a "die-in," where participants drop to the floor and denounce the Sackler family for funneling a percentage of their ill-gained drug money into numerous prestigious establishments under the deceitful guise of humanitarianism.
Many members of The Met are familiar with Nan Goldin as a famed photographer. Yet as benefactors of the Sackler's endowments, the silence in response to her critiques and requests to remove the family name from its exhibition space was deafening. Throughout this film, the audience bears witness to the evolution of Laura Poitras from a filmmaker to a harm-reduction advocate as she places a compassionate lens on the opioid crisis in America while simultaneously telling Nan's origin story. Poitras creates visual and conceptual space for Nan's work throughout the film by invoking them as pillars of the narrative that spans Nan's lifetime. She uses Nan's infamous slideshows as time-traveling artifacts to showcase her many facets while illustrating how Nan's artistic identity came to be.
In an age where shame and grief seek to bury the truth, Poitras, Goldin, and the members of P.A.I.N. defy denial and intimidation efforts to expose and uproot the family tree and their ancestral ties to Big Pharma. Nan has historically championed pro-authenticity and anti-repression through her photography, and her event-oriented protest echoes the demand for corporate transparency and socio-political accountability.
Laura and Nan's collaboration amplifies the voices of those victimized by society. During the COVID-19 shutdown, Laura opted to put down the camera and instead conduct weekly audio interviews with Nan, who is generous and unfiltered in her responses. The transparent production process of these faceless interviews allows for a visceral narrative progression of Nan's story. Outstanding editing by Amy Foote, Joe Bini, and Brian A. Kates builds upon the undercurrents of these interviews to create eerie deja vu-like parallels through themes of conspiracy, denial, and rebellion. These themes reverberate in communities victimized by government negligence during the AIDS and opioid crisis.
Nan's voice weaves raw contextual emotion into the natively vulnerable snapshots shared from archival footage and photography. By the 6th chapter, the sentiments that fuel Nan's ongoing fight are palpable throughout the theater. One can't help but admire Nan and her team from P.A.I.N. for overcoming tragedy by taking action against stigma. It takes a lot of courage and commitment to transmute grief into restorative justice against a system that would instead void the truth.
ALL THE BEAUTY AND BLOODSHED is a must-see documentary; I was pleasantly surprised to find myself, front row and feet up, to a legendary masterclass on transdisciplinary collaboration by Laura Poitras and Nan Goldin. Although many will watch this film and interpret it as a powerful piece of activism, Laura's filmmaking reminds us that good cinema doesn't run campaigns but instead tells stories that empower viewers and challenge society to take a hard look in the mirror.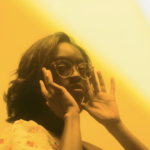 Olivia Trice is a force to be reckoned with. After studying classical and contemporary theatre for the stage at Duke Ellington School of the Arts in Washington, DC, her artistic roots have fueled her to step into her power as a multi-hyphenate producer. Olivia is currently a Senior at Hawaii Pacific University pursuing Multimedia Cinematic Production & Screenwriting. While her artistic expression has evolved to span multi-forms of digital media, Olivia's passions remain photography, experimental filmmaking, and aerial dance/improvisation. In 2018 she began her career on-set working as a production assistant on TV/Film productions like GODZILLA VS. KONG, HAWAII FIVE-O, MAGNUM P.I. and AMERICAN IDOL. As a former ambassador of the Community & Teen's department at Instagram, she has also spent much of her development online translating those connections into real-life impacts and business collaborations. Olivia currently works as a digital producer and social media lead for Still and Moving Center, a local movement studio where she produces promotional content and performance films. She is excited to utilize her creative tools to produce movement-related content as a digital storyteller.

The mission of the HIFF ONLINE CREATIVES & CRITICS IMMERSIVE (HOCCI) program is to encourage film criticism in Hawai'i by using the influencer branding strategies to spark career opportunities in the State and not be hampered by oceans, state borders and distance, because geography is no longer a barrier. Ten mentees participated in this program, giving them press industry access to HIFF42. In addition, the cohort attended mentoring sessions by working critics in the online film journalism community in unique silos: Writing, Podcasting, Video Essays and Vlogging.
Mahalo to DBEDT Creative Industries and Creative Lab Hawaii for their support.