WOMEN TALKING, OUR FATHER, THE DEVIL and ALL THE BEAUTY AND THE BLOODSHED were official selections of the 42nd Hawai'i International Film Festival presented by Halekulani
HIFF ONLINE CREATIVES & CRITICS IMMERSIVE (HOCCI) Olivia Thrice talks about the joys of returning to the cinema to experience films as HIFF fully returns to an in-person event.  She also explores the theme of "forgiveness" in films she watched at HIFF42. She specifically highlights three films–WOMEN TALKING, OUR FATHER, THE DEVIL and ALL THE BEAUTY AND THE BLOODSHED–all female centered films dealing with patriarchal trauma and oppression, and all directed by women. Olivia's commentary is recorded as an episode of the HIFF TALKS Podcast.
You can listen to Olivia's episode below: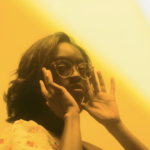 Olivia Trice is a force to be reckoned with. After studying classical and contemporary theatre for the stage at Duke Ellington School of the Arts in Washington, DC, her artistic roots have fueled her to step into her power as a multi-hyphenate producer. Olivia is currently a Senior at Hawaii Pacific University pursuing Multimedia Cinematic Production & Screenwriting. While her artistic expression has evolved to span multi-forms of digital media, Olivia's passions remain photography, experimental filmmaking, and aerial dance/improvisation. In 2018 she began her career on-set working as a production assistant on TV/Film productions like GODZILLA VS. KONG, HAWAII FIVE-O, MAGNUM P.I. and AMERICAN IDOL. As a former ambassador of the Community & Teen's department at Instagram, she has also spent much of her development online translating those connections into real-life impacts and business collaborations. Olivia currently works as a digital producer and social media lead for Still and Moving Center, a local movement studio where she produces promotional content and performance films. She is excited to utilize her creative tools to produce movement-related content as a digital storyteller.

The mission of the HIFF ONLINE CREATIVES & CRITICS IMMERSIVE (HOCCI) program is to encourage film criticism in Hawai'i by using the influencer branding strategies to spark career opportunities in the State and not be hampered by oceans, state borders and distance, because geography is no longer a barrier. Ten mentees participated in this program, giving them press industry access to HIFF42. In addition, the cohort attended mentoring sessions by working critics in the online film journalism community in unique silos: Writing, Podcasting, Video Essays and Vlogging.
Mahalo to DBEDT Creative Industries and Creative Lab Hawaii for their support.