Enemies to lovers is a romance trope that has run itself to the ground ten times over. Some movies do this well, but it always somehow feels a little familiar. So what better way to add some freshness to this genre than to make a Boys Love film set in Maui with two high schoolers from culturally different backgrounds?
MY PARTNER doesn't escape the tropes of the romance genre, in fact you can predict everything that will happen in the story within the first ten minutes. But the decision to make this movie about two boys, one Filipino and one Hawaiian, makes this film far more interesting and relevant than it could have been had the focus been on a straight relationship.
First and foremost, a straight romance would have done little to separate this from the plethora of films set in Hawai'i about a young couple falling in love. With two high school boys from distinctly different backgrounds developing feelings for one another, the back-and-forth between the two is more combative. And when they do eventually start to open up to one another, that connection doesn't just come from the two spending more time together while working on a school project, but from learning to understand and respect one another's culture. The empathy that grows between the two reminds us of issues and practices that many of us are a part of in the real world, adding a sense of legitimacy to these characters and their relationship.
But more importantly, this film allows local people on film to be in a gay relationship as a natural part of the story, which is more significant than some may know. Hawaiian society before foreign contact was very inclusive of the queer community. Relationships between men in particular were very prominent. When missionaries arrived to the islands, they began enforcing heteronormativity through their own practices, a devastating erasure of Native Hawaiian culture that caused ripples until the 21st Century. It was only ten years ago that gay marriage was legalized in Hawai'i. But since then, a thriving LGBTQ+ community has grown and continues to grow in this state. This film represents a positive continuation of that growth, being one of the first films made by and starring Native Hawaiians that features a gay relationship at the core of the story. Not only that, but the depiction of this romance is an act by Native Hawaiians of reclaiming something important and beautiful that was unjustly deprived of them centuries ago.
MY PARTNER is a cute and necessary addition to the Boys Love genre. By showing two boys of Pacific Island heritage falling in love, the film is saying that everyone, no matter what cultural background you come from, should be able to be in a relationship that makes them happy. And as a piece of queer cinema, it's a very welcome addition to the burgeoning film industry in Hawai'i. Let's hope there are more local queer stories to come.
The film recently garnered an Honorable Mention from the Made in Hawai'i Grand Jury at the HIFF43 Awards Gala. The jury stated on MY PARTNER as "a groundbreaking film for the islands and an ambitious feature debut by director Keli'i Grace. The inclusion of Olelo Hawai'i and Tagalog adds a specificity rarely seen even within mainstream local media, and the fantastic costuming and luminous acting across lead and supporting roles make this narrative feature a joy to watch."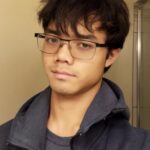 Devin Hung is currently a sophomore majoring in Creative Media at the University of Hawai'i at Mānoa. He was selected last year to be a mentee in HIFF's Online Creators and Critics Immersive where he wrote articles on some of the films present, and has written movie reviews since working for his high school's newspaper. He aims to one day become a film critic with an audience to introduce films of varying origins and genres to, as well as provide himself with an outlet to channel his love of film. When he isn't watching movies or doing his schoolwork, he enjoys spending his time writing, spending time with his friends, and religiously updating his Oscar predictions.
The HIFF ONLINE CREATIVES & CRITICS IMMERSIVE (HOCCI) program supports sustainable film criticism in Hawai'i through mentorship and paid career opportunities. The mission of HOCCI is to broaden diversity in film criticism across the Pacific region and use influencer branding strategies to spark career opportunities in Hawai'i, not be hampered by oceans, state borders and distance, because geography is no longer a barrier. The 2023 HOCCI is supported by Critical Minded, a grant-making and learning initiative that supports cultural critics of color in the United States.