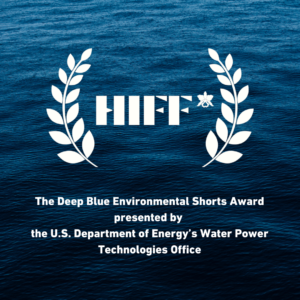 Presented by the U.S. Department of Energy's Water Power Technologies Office (WPTO), the Deep Blue Environmental Shorts Award and a $5,000 cash prize will be awarded to the best short film focusing on an environmental topic and/or theme. Short films that cover ocean- or water-based environmental topics and/or a Powering the Blue Economy™ theme, which involves the sustainable use of ocean resources for economic growth, improved livelihoods, and jobs while preserving the health of ocean ecosystems, are encouraged. Both fiction and non-fiction feature films will be nominated by the festival programmers and adjudicated by an international jury.
Curious about marine renewable energy? Check out the Waves to Water Prize, which seeks to help build resiliency in coastal locations by accelerating technological advancement in small, modular, wave energy-powered desalination systems that will eventually be able to help provide potable water to communities in need. When scaled up, this technology has the potential to provide clean drinking water during disaster recovery scenarios and for remote and coastal communities.
WPTO invites you to watch a recap of the Waves to Water Prize DRINK Finale, where finalists demonstrated their wave energy-powered desalination systems in North Carolina's Outer Banks. One grand prize winner and three other teams were awarded from a $1 million cash prize pool.
Learn more about the Waves to Water Prize and DRINK Finale highlights.
Learn more about HIFF42 Submissions & Deadlines at FilmFreeway.