NIGHTMARE ALLEY: A Time-Ambitious Trip Into Film Noir Camp
As of February, 2022, NIGHTMARE ALLEY is streaming on HBOmax and HULU.
NIGHTMARE ALLEY (2021) is a monster of a movie standing at 150 minutes long.  Despite being longer than most audiences are comfortable with – even fans of the Marvel Cinematic Universe have mixed feelings about films over 2 hours long – it is a dark, riveting piece with campy undertones.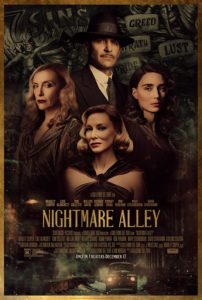 When the film opens with Stanton Carlisle,  a down-on-his-luck man (Bradley Cooper), being offered a job by a weathered-down carny, the movie appears to go in the direction of your typical rags to riches film.  However, as the film progresses, Director Guillermo Del Toro drops discrete plot anchors that wind together to create the spinning wheel of a contraption that is NIGHTMARE ALLEY.  Stanton – or Stan – carries baggage that meddles with every attempt of his in real time.  The parental figure he finds in his carny mentor, Pete and the whirlwind romance he embarks on with the electric performer, Molly (Rooney Mara), all go down the crapper because of his internal instability and seemingly clumsy way of dealing with business.  The film pivots with the entrance of Doctor Lilith Ritter (Cate Blanchet), who forces herself into becoming Stan's psychiatrist, and is flipped over on its head with the introduction of Ezra Grindle (Richard Jenkins), a previous skeptic turned believer of Stan's mentalist abilities. 
NIGHTMARE ALLEY does not drag on as many long films do, but instead fits enough plot for the film to move from a moderately paced first half to the full on sprint that is that last hour of the movie. 
In short, NIGHTMARE ALLEY  holds true to its "Thriller" genre and is an exciting watch for people who delight in movies that are both campy and extensively stimulating.
---
Kanani Sato has served as an Outreach Intern and Social Media Coordinator at the Hawai'i International Film Festival since 2021. Her interest in film stems from her love for costume and set design in movies and television. She is a strong advocate for diversity in media and strives to project Asian American and Pacific Islander voices in Hollywood.