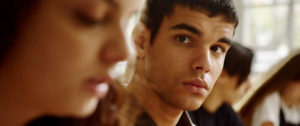 Lust is always a major factor in the typical coming-of-age story. It's a tired trope that always falls into the usual cliches. Been there, done that.  But rarely are they outlined with the same sincerity and sweetness as in Leyla Bouzid's unashamedly tender and earnest A TALE OF LOVE AND DESIRE, which had its world premiere at Cannes last year. Overcoming shyness, cultural barriers, and using comparative literature class to amplify the chasteness of our protagonists may sound trite. On the contrary, the excellent cinematography and dream logic in parts of the story provide textural detail to make it into a sensuous lyricism and imagery–the beading of water on lovelorn Ahmed's back during a shower; the gutter of a book turns into the crevice between warm thighs; the extreme closeup of fibers on the print pages of ancient love poetry  with wide-eyed enthusiasm of our his eyes feverishly hanging on to prose. Ahmed is our sensitive hero and is portrayed with abstract romanticism, which is an interesting gender switch, since these character arcs are usually reserved for female protagonists in rite-of-passage narratives.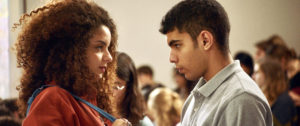 Director Leyla Bouzid expertly crafts a tender story, nuanced by characters who are restricted because of cultural and religious beliefs and that this conflict is just a way of life, a sublimation rather than moral corruption.
---
HIFF SELECTS is a subscription program featuring a carefully curated new film each month, along with exclusive bonus features. Films will be offered monthly on HIFF's streaming platform at watch.hiff.org.
Join HIFF Selects and have the best international and independent films delivered directly to you for a true film festival experience year-round.