Nia Tero Launches Kin Theory Database for Global Indigenous Creatives 
//by Jessica Ramirez, Creative Producer, Nia Tero  
After almost three years of dreaming, website development, and community building, Nia Tero is proud to announce the launch of Kin Theory, a global database for Indigenous creatives. Media makers from around the world who identify as Indigenous are invited to create profiles that include not only their skills and experience, but also their identities and languages. 
For filmmaker Brit Hensel (Cherokee Nation), one of the strengths of the database is visibility. "(On Kin Theory), you get to see everyone's faces and all their talents in one place, showing the industry that there are Native peoples who can do these jobs just like anyone else." Musician Rexie Adlawan (Filipino / Portuguese / Indian) adds, "Telling these stories is us reminding everyone we still exist." 
In addition, to creating a place for connection across Indigenous creatives, Kin Theory is a space where non-Indigenous creators, educators, film and media industry partners can connect with potential Indigenous collaborators. "Kin Theory brings an opportunity for accountability," said producer Taylor Hensel (Cherokee Nation).
"For anyone in the film and TV industry who says they want to hire Indigenous peoples but can't find them, they can go to Kin Theory to find a very beautiful, organized, professional website full of amazing (Native) creatives."  – Taylor Hensel
In addition to professional details, Kin Theory members are invited to share websites and links to media projects. Members can also share their location and languages, supporting the film and TV industry in hiring local talent for projects. For Justyn Ah Chong (Kanaka Maoli), this provides an opportunity to show his love for the land he lives on, Hawai'i.
"Any film I create gives me an opportunity to share my love of Hawai'i. I love the place very deeply; it means everything to me. I want to see it continue sustaining its people."  – Justyn Ah Chong
In the year leading up to the launch of Kin Theory, the team partnered with film festivals, universities, and other organizations for a series of vibrant virtual screenings and panel discussions featuring Indigenous artists and those dedicated to uplifting their work. An event last November at HIFF highlighted connections created across media and regions, with a focus on Kanaka Maoli and other Pasifika creators. Other 2021 event partners included imagineNATIVE, New York University, Seattle International Film Festival, and others. Panelists included: the team from Sundance Institute's Indigenous Program; filmmakers Princess Daazhraii Johnson, Raven Two Feathers, and Theola Ross; Jennifer Podemski (Shine Network); Leya Hale (Twin Cities PBS); and more. The Kin Theory team held their first in-person event at Big Sky Documentary Film Festival on February 23, 2022.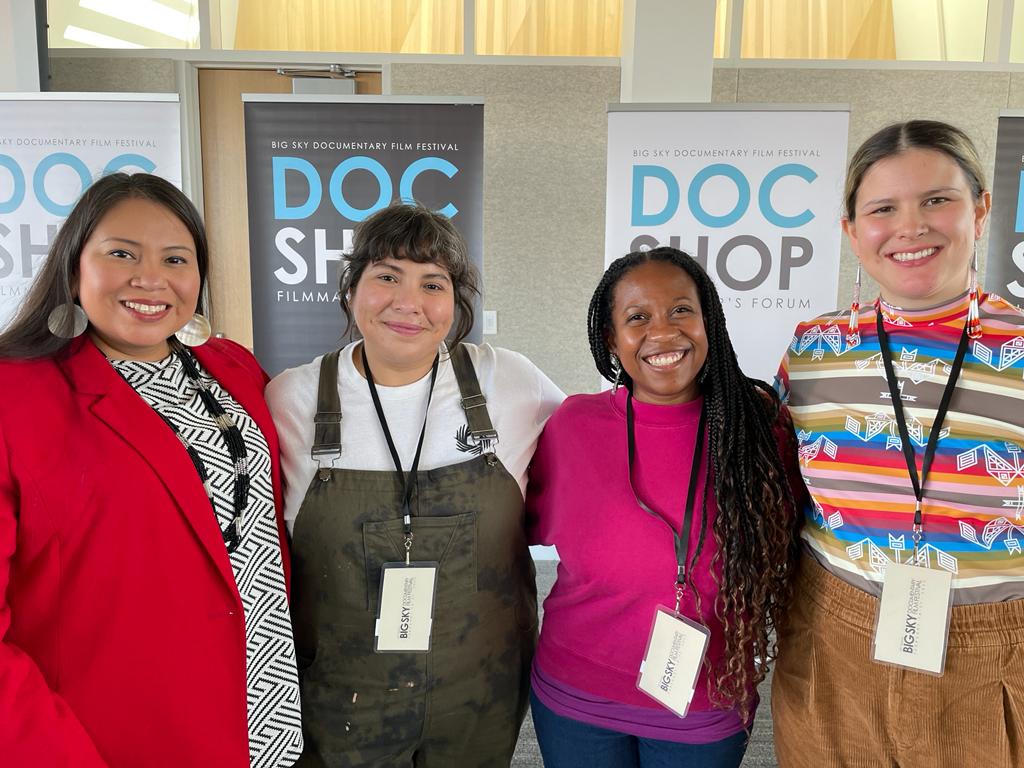 Although the database is new, the community gathered and the knowledge it holds is not. As Kin Theory founder, Tracy Rector said, "We are holding and weaving together space for connectivity across Indigenous peoples rooted in both tradition and contemporary storytelling." 
Filmmaker Lucia Ortega Toledo (Zapotec), a current 4th World Media Fellow, joined Kin Theory within a week of its initial launch, saying that the database "is a hope for me, a hope for connection." Lucy Siguenza put it a little simpler: "It's badass."