Alika Tengan's Every Day in Kaimukī (2022) is the first narrative feature by a Kānaka Maoli filmmaker to premiere at Sundance, but it arrives as part of a cohort of similarly unconventional features from Hawaiʻi, including Christopher Makoto Yogi's August at Akiko's (2018) and I Was a Simple Man (2021), and Christopher Kahunahana's Waikiki (2020). It only seems appropriate to put Kaimukī in dialogue with them. Consider the title, which uses kahakō in its place name, unlike Kahunahana's film. This is our first clue that Tengan approaches the neighborhood with a grounded, low-key realism, whereas Kahunahana heightened Waikīkī's faux-cultural contradictions to surreal effect.
This commitment to authenticity clashes with the two-faced attitude of its protagonist, Naz (Naz Kawakami), who dreams of a life elsewhere while ignoring what's in front of him. He's moving to New York City in a few weeks, vacating his apartment and his job as a radio DJ at KTUH. His girlfriend, Sloane (Rina White), is a UH ceramics student whoʻs been accepted into a graduate program at Pratt, but Naz frequently blows her off to prove to Kaden (Holden Mandrial-Santos), the trainee taking over his role at KTUH, that he's respected by his skater friends in and around Kaimukī. As critic Abby Sun points out, Sloane and Kaden are the most fictionalized characters in the film, which mainly consists of people playing themselves (a vérité tactic also used in Yogiʻs films). They draw out the conflict between Naz's resolve to escape and his need to be validated by those he leaves behind, especially in the presence of a replacement who feels more "local" and like him than heʻll ever be.
Naz's desire to belong to an in-group, whether it be a group chat, the NYC arts scene, or the category of "local" or "Hawaiian" itself (his Hapa identity is a recurring source of anxiety), is made all the more severe by the alienation of the film's pandemic setting, and illuminates the fraught terrain of identity politics in the islands. Reversing the stereotype of an exotic, paradisical Hawaiʻi that serves as a lure in so many Hollywood films, this is a film about an imagined US "mainland" of opportunity that so many upwardly-mobile professionals from Hawaiʻi chase in their 20s and 30s. However, the film refrains from passing judgment on Naz, instead pointing towards what he might be missing. A memorable scene features an exhibition by local artist Alec Singer at the Kakaʻako gallery Aupuni Space. Naz stumbles into the gallery, drunkenly ranting about Sloane and his life to Alec, who's occupied with his own performance piece. The camera drifts past them, showcasing the eclectic art around Naz that he fails to see. It's a skillful encapsulation of the film's themes.
Rounding out the film's scattershot plotting is a humorous aside involving Naz's cat and the problem of figuring out how to get him to New York. Not since Rap Reiplinger's Mahalo Airlines has the procedural absurdity of air travel been so well-mined. Cinematographer Chapin Hall's boxy 4:3 compositions confine Naz to interior spaces both indoors and outdoors: parking lots surrounded by condominiums, a dimly-lit radio booth, and fenced-off skate parks by freeways, to name a few. These locations juxtapose speed and stillness, pre-war downtowns with post-war suburbs, and historic architecture with the gentrification that threatens to swallow it up. All of it coheres into a deeply personal vision of a Kaimukī in flux, one that urges us to reflect on everything Naz plans to walk away from.
Alika Tengan's previous shorts, Mauka to Makai (2018) and Molokaʻi Bound (2019), have both screened at HIFF. Molokaʻi Bound won the Best Made in Hawaiʻi Award at HIFF 2018, and will be developed as a feature film with the support of a $500,000 grant from Google and ARRAY.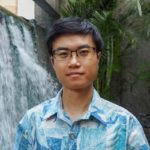 Emerson Goo is a deaf writer from Honolulu, Hawaiʻi, and a landscape architecture undergrad at Cal Poly, San Luis Obispo. His essays and reviews have been published at Screen Slate, MUBI, Sentient.Art.Film, HIFILM and Hyperallergic. Emerson is a 2022 Documentary Magazine Editorial Fellow at the International Documentary Association.