BAD AXE is an official selection of the 42nd Hawai'i International Film Festival presented by Halekulani. It is currently available to view on the Festival's streaming platform until November 27th (Hawai'i only) – Purchase Tickets 
Filmmaker David Siev successfully creates a portrait of American life during a time of turmoil in his new film BAD AXE, which was just awarded the HIFF42 Kau Ka Hōkū Award at the HIFF Awards Gala this past weekend. David follows the ups and downs of living through 2020 as his family, including his parents and two sisters, try to keep their restaurant in Bad Axe, Michigan afloat amid lockdowns and quarantines. Tensions are high as David's older sister Jaclyn Siev tries to protect her parents from the virus while keeping the restaurant running smoothly. But as many people realized during the pandemic and as David follows in this film, the virus was not the only problem there was to contend with in the year 2020.
BAD AXE will go down as one of the first films to fully document and come to terms with what life was like in the United States during a deadly pandemic. As an audience member, it is at times difficult to remember the worst of a pandemic that still persists across the world. This documentary also reminds you that 2020 wasn't just the year of the coronavirus, it was also the year of the killing of George Floyd, resulting Black Lives Matter protests, a presidential election, and increased divisions and prejudice across the country. All these things are woven into the history of the COVID-19 pandemic, and this documentary illustrates that complex history.
When trying to convey the gravity of a global issue it's often helpful to zero in on the stories of individuals to better understand and empathize with those affected. That is exactly the route David chose with his documentary. Audiences are often looking for documentarians to get the inside scoop on an issue and to get to know the subjects personally. David had an advantage in this being that he was filming his own family; people that were already comfortable speaking their minds and acting in a natural way around him. This kind of access to a story is something many filmmakers hope to get but never do. For David this isn't just a pandemic story, it's a story about his family and his hometown. He calls it "A Love Letter to Bad Axe" but the film reads more as a love letter to his family and his childhood growing up in this small Michigan town.
A topic discussed many times throughout the film is David's Father, Chun Siev, and his survival during the genocide in Cambodia in the 1970s. Chun, who played a large part in the film, sometimes used this trauma to downplay the struggles his children faced during the early stages of the pandemic. While a virus may be preferable when compared to killing fields in Cambodia, Jaclyn and her siblings didn't appreciate the diminishing of their hardships. Much of
the film displays the opposing opinions of Chun and Jaclyn, many instances of which can be summarized by their views on the "American Dream."
Chun's mother immigrated from Cambodia to Michigan with six children and started a new life. Chun himself, who still remembers the horrors of Cambodia, looks at the American Dream and takes a classic interpretation of it. His family has built a successful life for themselves in the United States, "pulled themselves up by their bootstraps" one might say, and he calls this the American Dream.
Jaclyn, however, takes a younger and more liberal perspective on the subject. Jaclyn, who has never experienced a life somewhere else, can see America for all it is, and it's not always a place where dreams come true. Chun and his daughter's disagreement on this topic is emblematic of a larger American discourse between opposing ideologies of America being a place of prosperity and success or America being a place of racism, bigotry, and hatred. I think the film comes to the conclusion that America is all of those things, and I would be inclined to agree. BAD AXE brings the audience with it as the film breaks down much of what it means to be American, and especially in this family's case, what it means to be Asian American. The film is a study of life in the United States and family dynamics, with the pandemic acting as a backdrop to explore these larger topics.
Everything happening in this family radiates true over the whole country. In making this a personal and intimate documentary, David allows the viewer to truly relate and empathize with all those affected by the pandemic and by hateful rhetoric. I'm not sure if everyone is ready to grapple with what went on during those early days of COVID-19. I know when I watched this film I was almost stunned and shocked at things I knew happened but had not yet come to terms with. The film takes you on an emotional journey along with this family in which everyone's perspective is given enough time for you to empathize with them. It seems bleak for the majority of the film but by the end a true resilience and beauty shines through and I almost found myself in tears.
If you're ready to look back on 2020 with a critical eye, I think this documentary is a good place to start reckoning with the significance of 2020 in American history. Filmmaker David Siev is the perfect guide on our way to understanding how the pandemic changed our country, and how we changed as people.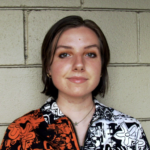 Carson Lommers is a sophomore Creative Media student at the University of Hawaiʻi at Mānoa. Originally from Corvallis, Oregon they moved to Hawaiʻi to attend school and pursue their passion for film. Carson hopes to incorporate their other passions such as philosophy, LGBTQ+ activism, and feminism into their filmmaking and writing while attending college and after graduation. With their degree Carson wants to move back to the Pacific Northwest and apply to work at a local production office while still working on individual film projects.

The mission of the HIFF ONLINE CREATIVES & CRITICS IMMERSIVE (HOCCI) program is to encourage film criticism in Hawai'i by using the influencer branding strategies to spark career opportunities in the State and not be hampered by oceans, state borders and distance, because geography is no longer a barrier. Ten mentees participated in this program, giving them press industry access to HIFF42. In addition, the cohort attended mentoring sessions by working critics in the online film journalism community in unique silos: Writing, Podcasting, Video Essays and Vlogging.
Mahalo to DBEDT Creative Industries and Creative Lab Hawaii for their support.