MY SMALL LAND was an official selection of the 42nd Hawai'i International Film Festival presented by Halekulani. 
Previously known for directing the short film CIRCLE, Emma Kawawada from the Bun-buku production group makes her feature film directorial debut with MY SMALL LAND. It is a beautiful drama and bitter-sweet coming-of-age movie which follows the challenges facing Sarya (Arashi Lina,) a seventeen-year-old refugee.
When you're a teenager, it's common to search for a place where you belong; for Sarya, who has lived in Japan since the age of five, she has found it. However, in her senior year of high school, she and her family lose their refugee status. Beyond being originally from Turkey, Sarya and her family are also Kurdish. As the movie describes; the Kurds are an ethnic group from Turkey, Syria, and Iran but have no country to call their own. Throughout the movie, we follow how Sarya navigates a very frustrating situation as the place she calls home rejects her and her family, further deepening the feeling of not belonging. MY SMALL LAND isn't a film that just represents the Kurdish community in Japan but most immigrants around the world struggling to find their place in the world.
In this film, Sarya is preparing for college and aspires to become a teacher like the one who taught her Japanese and inspired her when she was little. When Sarya and her family lose their status, their lives become restricted; everyone is unable to leave their prefect or legally work. Life becomes more complicated after Sarya's father has been taken into immigration custody after being caught working for a construction company. Life for Sarya goes from exciting potential to an incredible amount of stress throughout the movie. While not being permitted to work legally in Japan, Sarya suddenly finds herself responsible for her family and the Kurdish community.
This movie explores and challenges the immigration status and laws of Japan through empathy and human understanding of what it means to be a refugee. Kawawada's first feature film focuses on a Kurdish family in Japan. While being half Japanese herself. Kawawada has questioned whether or not she can call herself Japanese growing up – making her all the more connected to this story. We can see this question being brought up multiple times throughout the film as Sarya and her siblings are worried about being forced to leave what they know as home but they know the language, all of their friends are Japanese, for the younger siblings, Japan is all they know. Beyond Kawawada's personal experience of questioning her place of belonging, after learning there are about 2,000 Kurdish people in Japan, she made sure to spend time with them and learn their stories – an experience which ultimately inspires the film itself. Interviewing Kurdish refugees and trying to fully understand their experiences, even those who couldn't reveal their identity, were all sources of inspiration for MY SMALL LAND.
Cinematographer Hidetoshi Shinomiya does an incredible job of shooting such natural scenes that puts you into the world of Sarya's journey throughout the film. Roth Bart Baron sets the score for this beautiful yet painful story, highlighting the tone of every scene with happiness and joy while in contrast the music is mellow and sad for the not so pleasant scenes to watch. Lina Arashi gives a beautiful performance in this film and connects with her characters quite well, especially for acting in a feature film for the first time. Sarya is an intelligent, empathic, and strong character and Arashi delivers her story with incredible impact on the screen. Every emotion Sarya feels the audience could feel themselves. There are multiple scenes where there is not much dialogue from Sarya but Arashi's performance translates everything that the audience needs to know.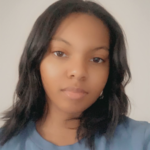 Hi, my name is Mya Frye! I'm a student at Hawaii Pacific University and I study mass communications with a minor in multimedia. Currently I run my own podcast called Doing My Best where I co-host and do the pre/post-production. After graduation, I plan on attending grad school and hope to study film and tv production, while continuing my podcast on post-grad life and independence for young adults. In my freetime I enjoy creating new coffee drinks as well as binging my favorites movies if I have the time.

The mission of the HIFF ONLINE CREATIVES & CRITICS IMMERSIVE (HOCCI) program is to encourage film criticism in Hawai'i by using the influencer branding strategies to spark career opportunities in the State and not be hampered by oceans, state borders and distance, because geography is no longer a barrier. Ten mentees participated in this program, giving them press industry access to HIFF42. In addition, the cohort attended mentoring sessions by working critics in the online film journalism community in unique silos: Writing, Podcasting, Video Essays and Vlogging.
Mahalo to DBEDT Creative Industries and Creative Lab Hawaii for their support.