THE WIND AND THE RECKONING was the Opening Night Film for the 42nd Hawai'i International Film Festival presented by Halekulani. The film is currently in commercial release. 
Filmed in just 16 days during a worldwide pandemic, THE WIND AND THE RECKONING is a film I've anticipated for over a year. I first heard of it when it made press headlines for being among the first of Hawaiʻi productions to film, following the release of the SAG-AFTRA COVID-19: Safety Protocols in the fall 2020.
Inspired by true historical events, the film takes place in the year 1893. This was a pivotal time in Hawaiian history as it marks the year of the illegal overthrow and non-existent annexation of the Hawaiian nation committed by the United States of America. While this happened, there was also an epidemic of leprosy in Hawaiʻi. Sanford Dole, the son of a missionary who committed crimes against humanity for leading the illegal overthrow of Hawaiʻi, sent out task forces to hunt down all citizens of the Hawaiian nation with leprosy and forcibly banish them to isolation to Kalaupapa on Molokaʻi.
This is the story behind this film. Two of the people who were hunted for leprosy are Koʻolau, played by hapa (meaning Native Hawaiian mix) star Jason Scott Lee, and Kaleimanu, played by young first-time actor, Kahiau Perreira. They are husband and son to the leprosy-free Piʻilani, portrayed by emerging Kanaka Maoli actress, Lindsay Watson, who recently starred in Netflixʻs Finding ʻOhana. Upon the task forces' discovery of the leprosy-stricken 'ohana, the family of three flees. They eventually get tracked down to Niʻihau, where a final showdown happens between the 'ohana and a task force leader, McCabe, portrayed by Lostʻs Henry Ian Cusick.
Concluding the film, documentary footage of the cast and crew visiting a survivor of the Kalaupapa leprosy colony plays. During the end credits, archival photos of the real places and people in the story were shown. These elements reminded the audience that this is a real story. Not just for Piʻilani's ʻohana, but for all who were subject to the horrors of Sanford Dole during the leprosy crisis. This story was one about aloha, something which is reciprocated, something Piʻilani's ʻohana understood. The film centered around their fight against forced separation by colonial forces and the refusal of being defined by a disease. My entire life, I have never heard of this story from Piʻilaniʻs real-life memoirs, in which the film was written from. This film was a wonderfully sorrowful yet necessary learning experience that I believe everyone should see.
I will have to say I was hesitant going into the film. As my focus is on Hollywoodʻs portrayal of Hawaiʻi, the representations of Hawaiʻi and Hawaiians portrayed by non-Hawaiians have not been nice nor decent. Non-Hawaiians are quick to push the image of paradise while negating Hawaiʻi as a land and a people as merely objects, non-existent, stereotypes, or sexualizations. I am incredibly glad to say that this film did not do that.
There was a particular scene I must applaud for its symbolism. Piʻilani scolds Kaleimanu for wearing his white Sunday shirt out to surf. When she peels it off him, it is revealed that the child has leprosy. Historically, the Native Hawaiian population had been hit by many diseases brought by European foreigners, especially missionaries. In less than 100 years after Cookʻs first arrival in Hawaiʻi, the Native Hawaiian population had declined by almost 85%. Native Hawaiians were told by European missionaries that they were dying due to not believing in the Christian God. Even though, they were the ones spreading disease to Natives. The symbolism of the white Sunday church covering Kaleimanuʻs deadly infection was strikingly eerie.
There was only one really big critique I had which was, I thought some of the specific violence shown was too gory and traumatic for Hawaiian audiences, as this is a very real history for us. But, I talked to a Kanaka Hawaiʻi and Aloha ʻĀina I know from Waiʻanae named Makaio Villanueva, who saw the film the same night as me at Bishop Museum. He donned one mean malo (traditional Hawaiian loincloth) and chanted ʻE Iho Anaʻ, a chant of being strongly united as Hawaiians, along with another Hawaiian uncle as the end credits rolled… they did this out of great pride. I told him my thoughts on the violence and he stated that he thought it was necessary, that certain audiences needed to see it, because it was real for Hawaiians. Many haole (foreigners, non-Hawaiian) do not understand the very real harm Native Hawaiians faced from colonial forces. I think Makaio's viewpoint was great, although it contested mine.
Getting back to the non-Hawaiians involved with the production, they didnʻt try to tell the stories of Hawaiians in place of Hawaiians, they let Hawaiians lead their own story, tell their own story. I say this because it doesnʻt try to push a false narrative of the task force "saving" people. It treats them as they were: antagonists. The dialogue of the film is also comprised 80% in ʻŌlelo Hawaiʻi (Hawaiian Language). A narrative feature film out of Hawaiʻi has never, ever, done that before. This is history in the making.
I believe that this film is an exceptional example of how non-Hawaiian filmmakers can ally with Native Hawaiians and help tell authentic Hawaiian stories. This is what Hollywood must do to move in a better direction.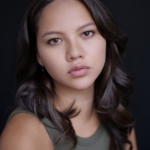 Pualalea Panaewa is a young Kanaka 'Ōiwi filmmaker dedicated to telling authentic stories of Hawaiʻi. She was born and raised in Waiʻanae, Oʻahu with a strong background in Hawaiian history and culture and the performing arts. As a product of this, they are dedicated to combating the misrepresentation of Hawaiʻi in media. Pualalea currently attends the University of Hawaiʻi at Mānoa where they study Digital Cinema in the Academy for Creative Media with a focus on Indigenous filmmaking.

The mission of the HIFF ONLINE CREATIVES & CRITICS IMMERSIVE (HOCCI) program is to encourage film criticism in Hawai'i by using the influencer branding strategies to spark career opportunities in the State and not be hampered by oceans, state borders and distance, because geography is no longer a barrier. Ten mentees participated in this program, giving them press industry access to HIFF42. In addition, the cohort attended mentoring sessions by working critics in the online film journalism community in unique silos: Writing, Podcasting, Video Essays and Vlogging.
Mahalo to DBEDT Creative Industries and Creative Lab Hawaii for their support.