2022 FUTURE FILMMAKERS Contest: "Honor the past to build the future"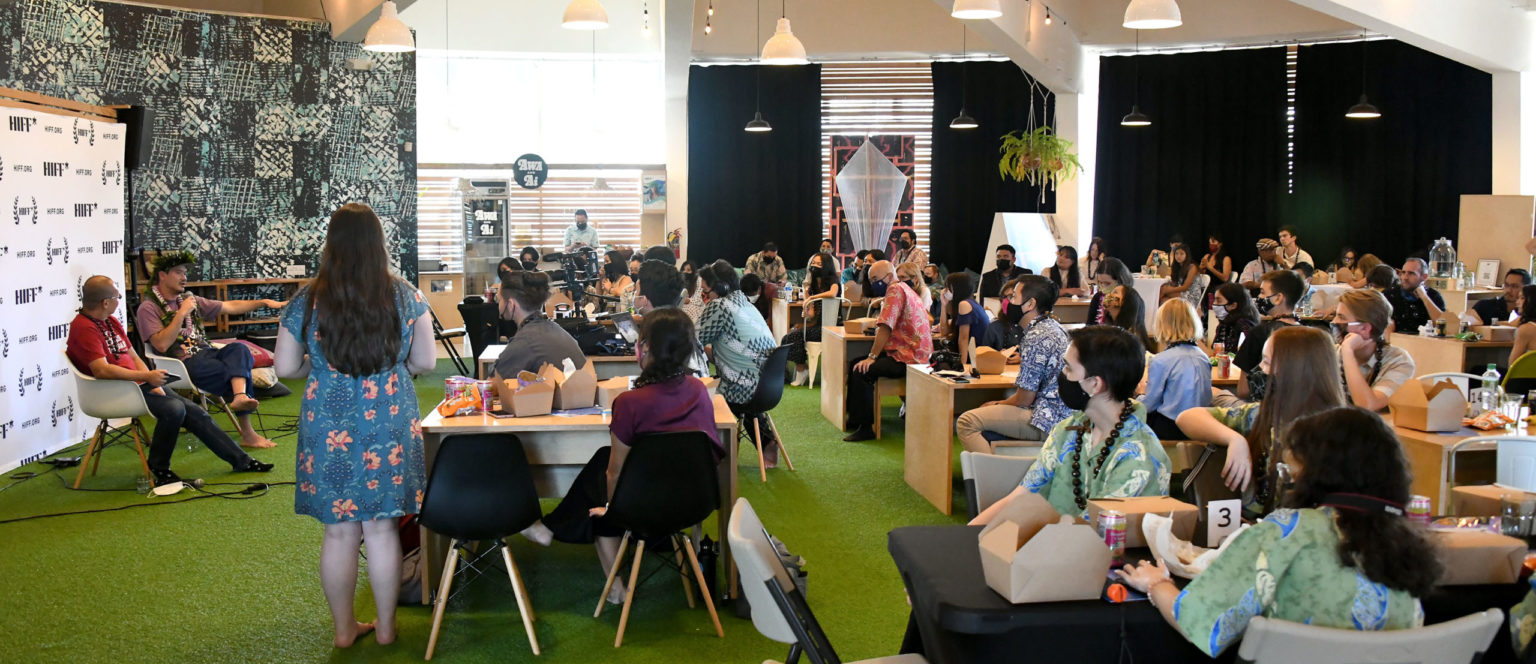 As HIFF partners with organizations like the Daniel K. Inouye Institute and Ted Stevens Foundation, we work to build a better future with students who have a powerful voice to reimagine a new world. For this year's HIFF-DKII Future Filmmakers theme, we invite young filmmakers (Grades 6th to 12th) in Hawai'i and Alaska to reflect on their own traditions that are important to them and to create a short film that presents their culture and what they hope to sustain as they, "Honor the Past to Build the Future."
The Friendship of Senator Daniel K Inouye (Hawai'i) & Senator Ted Stevens (Alaska)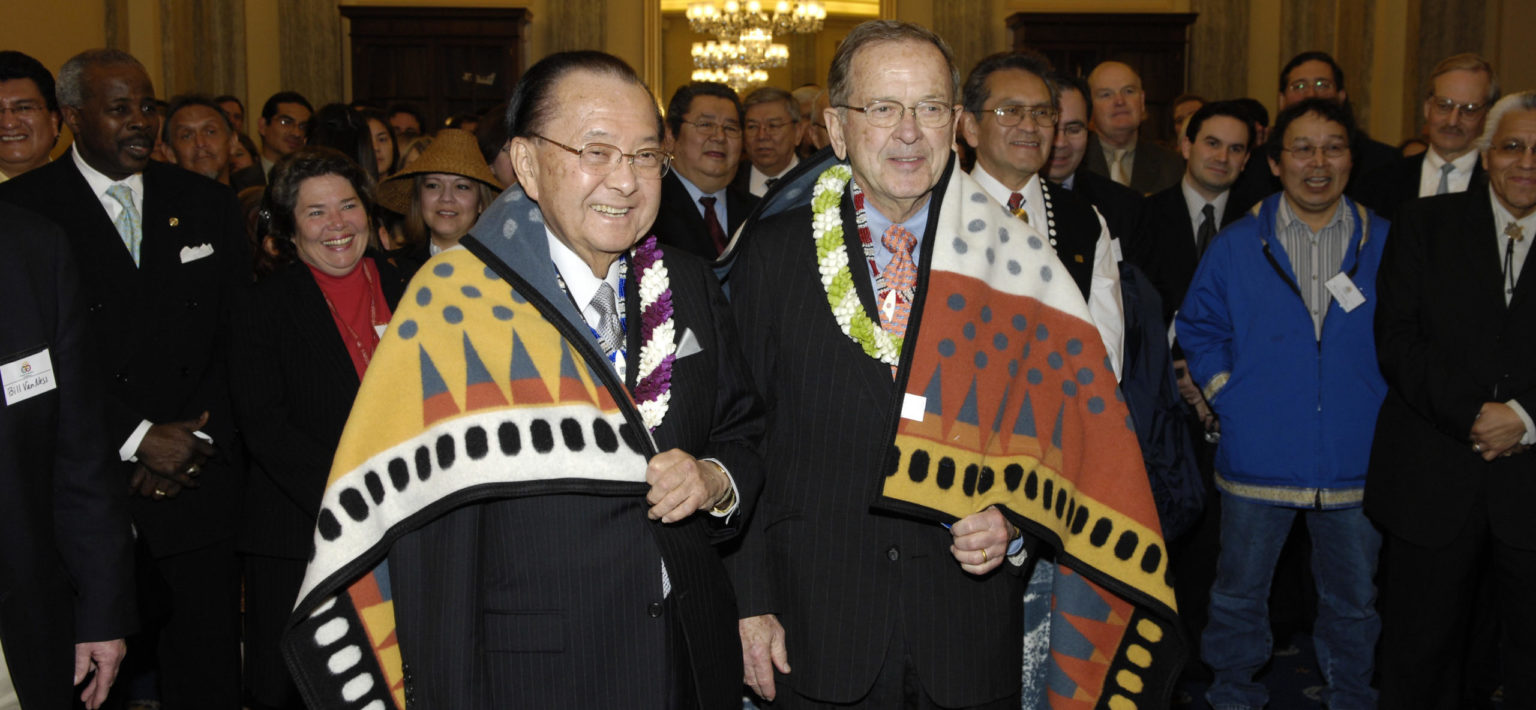 For 40 years, Senators Daniel K Inouye (D-HI) and Ted Stevens (R-AK) served together in the Senate with very distinguished careers. They served together on the Commerce Committee, each becoming Chairman. And maybe, just as important to them, it was where they became brothers. Senators Inouye and Stevens came to be best friends, even campaigning for one another despite being of different parties. They arrived at the Senate during the early days of statehood for their respective states, Hawai'i and Alaska, representing the far West, with strong ties to the Pacific. Together Inouye and Stevens served as a non-contiguous caucus, determined to defend the interests of Pacific based states. They locked arms on many occasions to defend the rights of their constituents against those who were insensitive to the needs of states which were separated by geography from the lower 48. 
Senator Quotes that inspired this year's theme
FUTURE FILMMAKER registration
Please sign-up below if you plan to submit a short film to the contest and to stay up-to-date on details, including our summer virtual workshops in July! There is no cost to register or participate in the Future Filmmakers program. For any questions, please email HIFF's Education Coordinator, Jen May Pastores.
First, please sign-up at the registration form link above to participate or at tinyurl.com/HIFFFutureFilmmakers. 
Create a short film that answers this year's theme. You may use the reflection questions below as a guide to making your film. 

Students may submit individually or with a group of up to 5 other students. You may collaborate with students at other schools.

The film must be at least 2 minutes long and up to 5 minutes max.  

Films may be made with a smartphone, tablet, digital camera, Zoom record, a Tik-Tok, or be animated. Get creative!

Plan to join us for our summer virtual workshops in July! This will be a great way to meet other students and get ideas and guidance for your film submission. 

Films must be submitted on HIFF's FilmFreeway page under the "DKII Future Filmmakers" at:

https://filmfreeway.com/HIFF

by September 23. There is no entry cost to submit. 

For any questions, please contact Education Coordinator, Jen May Pastores.

Students will be notified on September 30, 2022.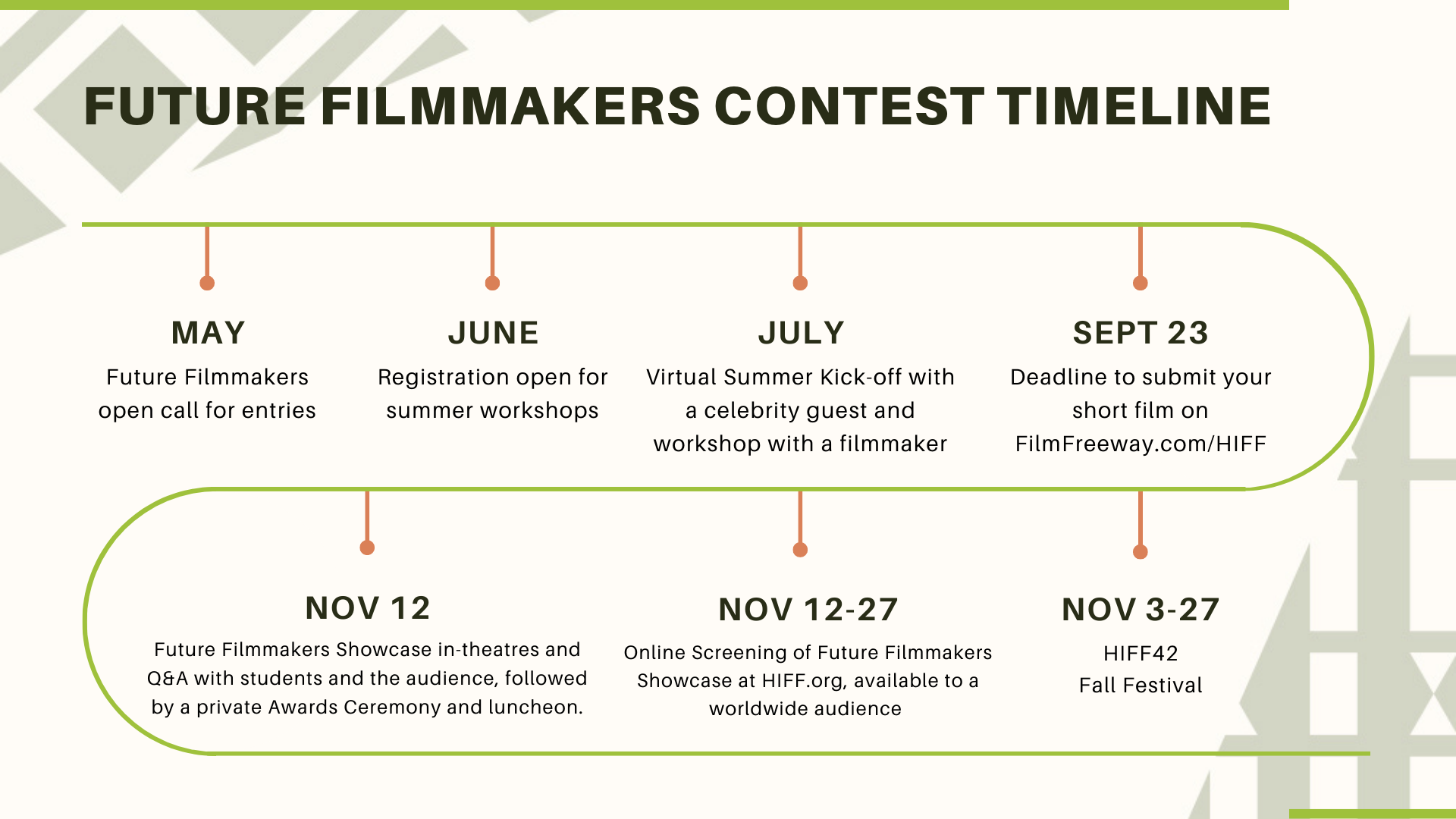 THEME REFLECTION QUESTIONS
What are some unique activities that you do with your family that honors your culture?




When you think about your culture, describe what you see. Are there traditional clothing that are worn? Do you smell scents, incense, or flowers? Or the aroma of food? What do you eat for special celebrations?  What kind of music or sounds do you hear?  Where do these traditional practices usually take place?




What kind of special mementos or objects represent your heritage?




What meaningful practices from the past represent your culture and is something you hope to stay with you as you get older?




What lessons are being passed down to you from your grandparents or elders around you?




What are some stories or conversations you've had with your family about your culture?




Is there something about your culture that you would like to see better represented or celebrated in your community?




What do you hope for the future of your community? 

How can you participate in conversations with students of indigenous backgrounds through creative projects?
free online summer workshops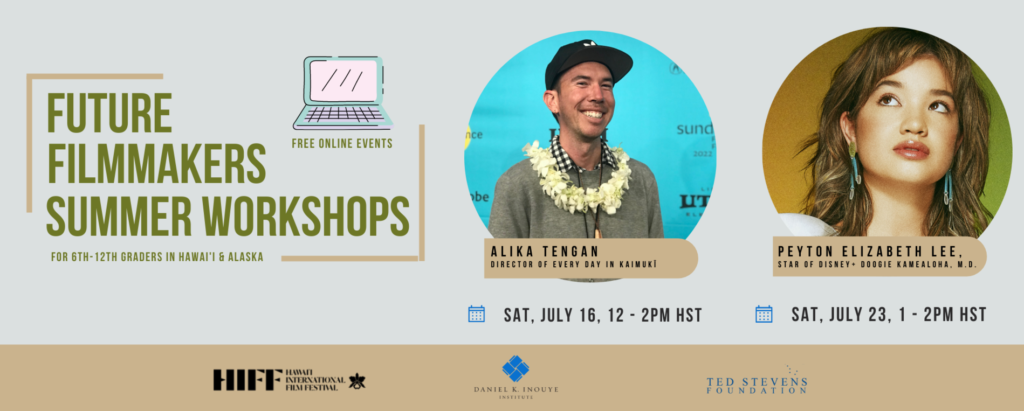 Hawai'i and Alaska students, you're invited to join us online for two fun Future Filmmakers Summer Workshops open to 6th-12th graders. Meet other students and prepare your short film submission for the Daniel K. Inouye Institute Future Filmmakers Film Contest. Meet local award-winning filmmaker Alika Tengan, director of EVERYDAY IN KAIMUKĪ, on Saturday, July 16th, 12-2PM HST and also meet actress, Peyton Elizabeth Lee, star of Disney+'s Doogie Kamealoha, M.D. on Saturday, July 23rd, 1-2PM HST. More information at: https://tinyurl.com/2022FutureFilmmakers
2021 HIFF YOUTH AMBASSADOR: DIRECTOR DESTIN DANIEL CRETTON
Maui-born Destin Daniel Cretton, is fresh off the release of Marvel Studios' newest film, SHANG CHI AND THE LEGNED OF THE TEN RINGS, starring Simu Liu, Michelle Yeoh, Awkwafina, and Tony Leung. This is the first film in the MCU that is led by an Asian actor, and mostly Asian cast. Destin's feature film debut, I AM NOT A HIPSTER, premiered at Sundance in 2012. And was followed by SHORT TERM 12, which won the Grand Jury Prize and Audience Award at the SXSW Film Festival in 2013, featuring early performances by Brie Larson, Lakeith Stanfield, Rami Malek, Kaitlyn Dever, and John Gallagher Jr. His third feature, an adaptation of the NY Times best-selling memoir, THE GLASS CASTLE, starred Brie Larson, Woody Harrelson, and Naomi Watts and was released in 2016 by Lionsgate. Following this, Destin directed JUST MERCY for Warner Bros, the adaptation of the NY-Times best-selling memoir by civil rights attorney Bryan Stevenson. The film starred Michael B. Jordan, Jamie Foxx and Brie Larson.
2021 FUTURE FILMMAKERS STUDENT WINNERS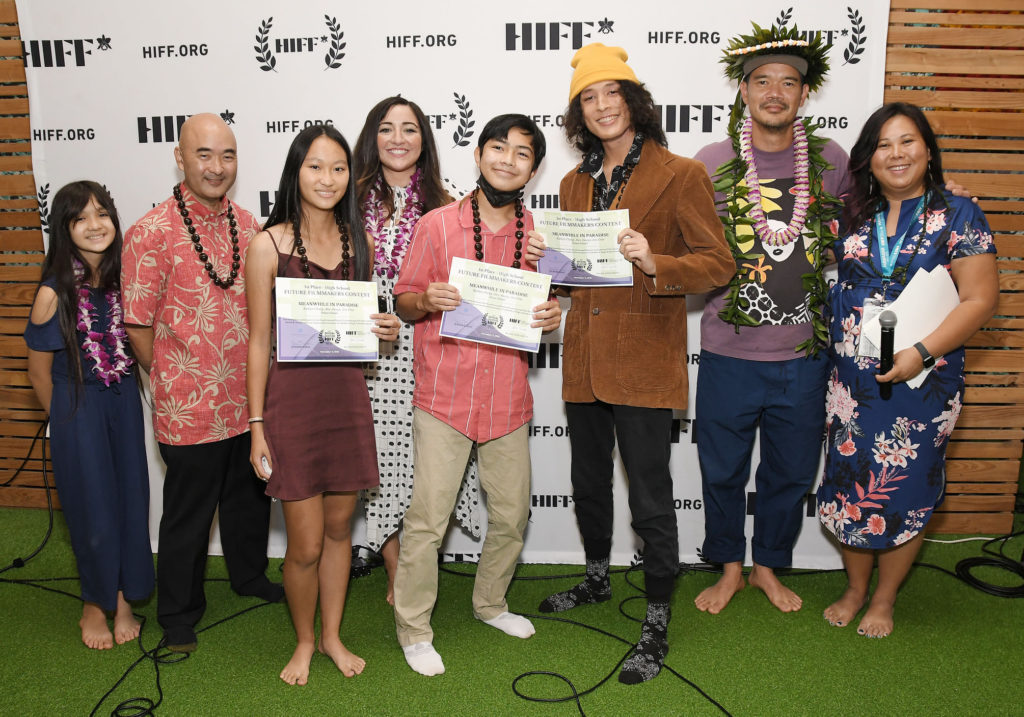 1st Place High School
'Iolani School
First place in the high school division went to MEANWHILE IN PARADISE, a short film directed by 'Iolani School student filmmakers Braden Cruz, Kaitlyn Chang, Alex Awaya. The film examines anti-Asian prejudice and human connection through a story about an elderly Japanese American man who reflects upon his childhood during wartime Hawai'i.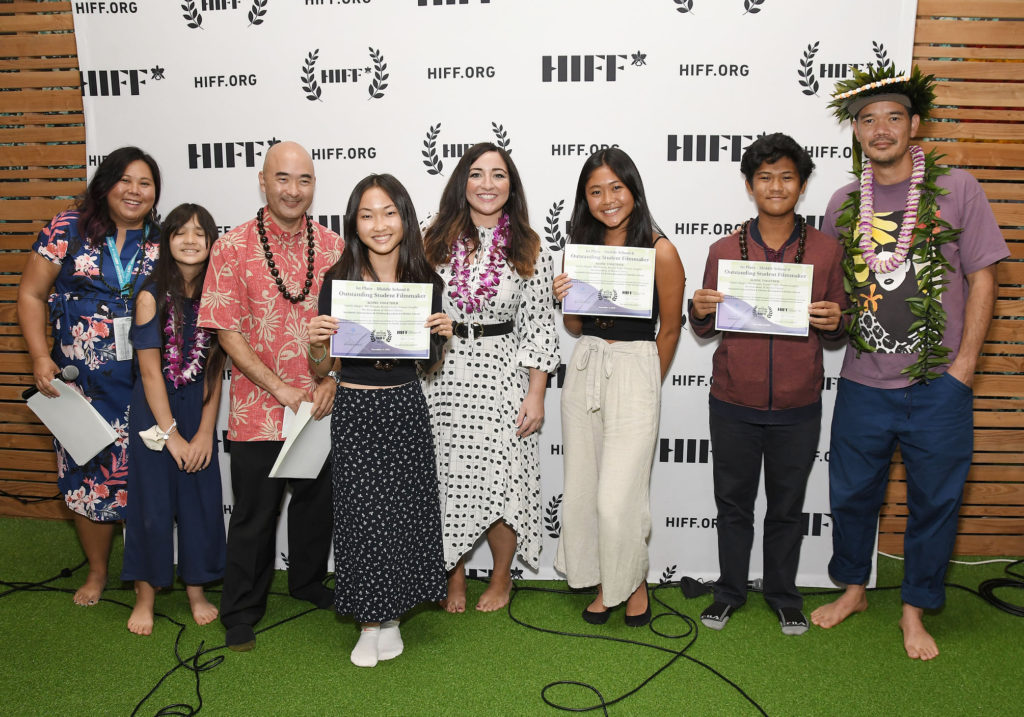 1st Place Middle School
Kealakehe Intermediate School & Chiefess Kamakahelei Middle School
In the middle school division, first place went to ALONE TOGETHER, a collaborative project directed by students from the media programs at Kealakehe Intermediate School in Kona and Chiefess Kamakahelei Middle School on Kaua'i: Mei Kanada, Mei Kawakami, and Marlon Ultrera. This short film was created during the lockdown in the 4th quarter of last school year and was a true collaborative project by 17 middle school students who worked in teams for about 5 weeks to bring this to life.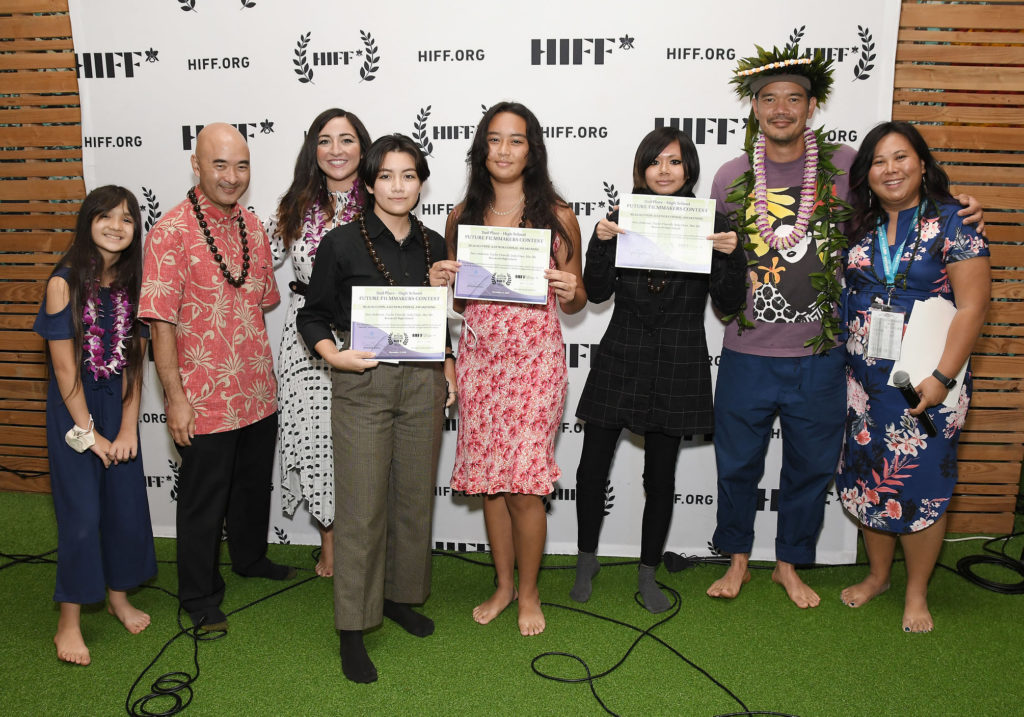 2nd Place High School
Roosevelt High School
REALIZATION: A GENERATIONAL AWAKENING with student filmmakers, Inez Amihan Anderson and Taylor Vitarelli from Roosevelt High School.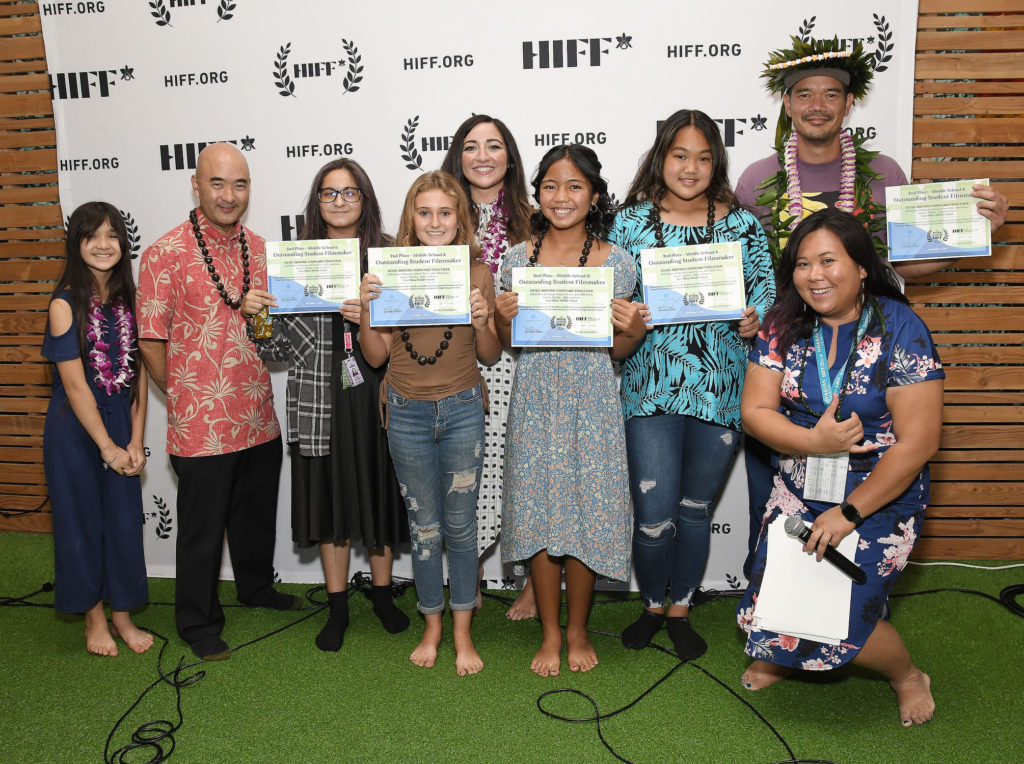 2nd Place Middle School
Ewa Makai Middle School
GENZ: MOVING FORWARD TOGETHER with student filmmakers, Isabella Rose Rodriguez, Aaliyah Tancio, Alleli Bella Ponce, Landon Espritu, and Addison Johnson from Ewa Makai Middle School.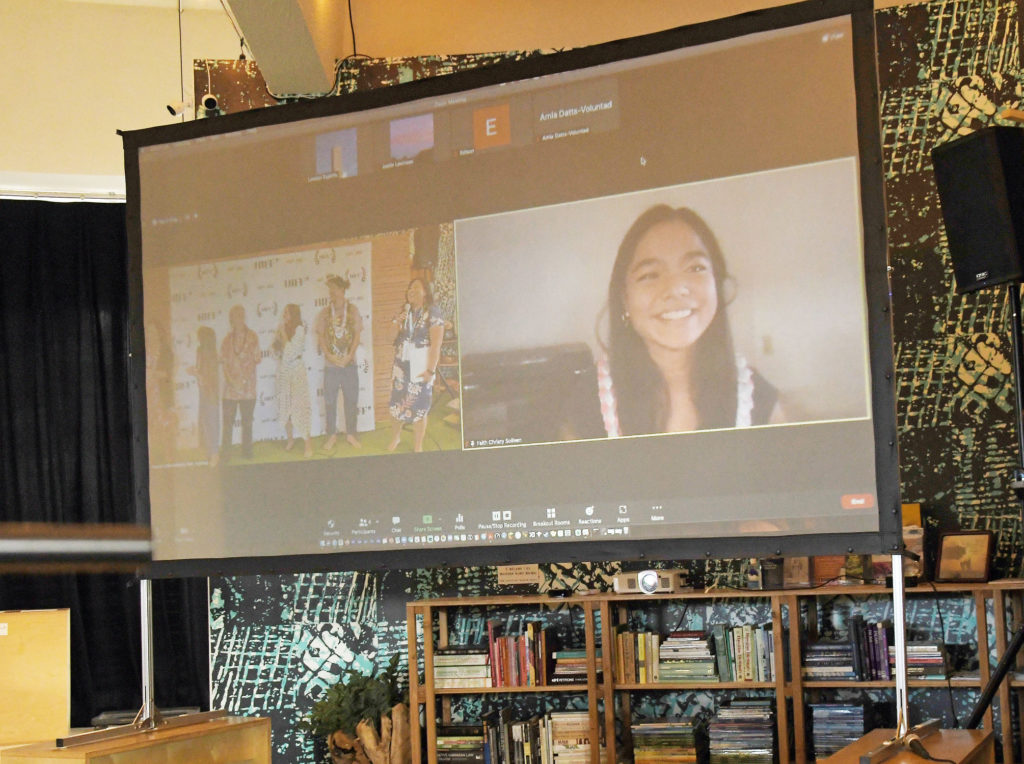 DKII Creativity Award
Maui High School
Winner of the DKII Award for Creativity and Poignancy went to THE TRIBULATIONS OF APPRECIATION with student filmmaker Faith Christy Madariaga Soliven of Maui High School.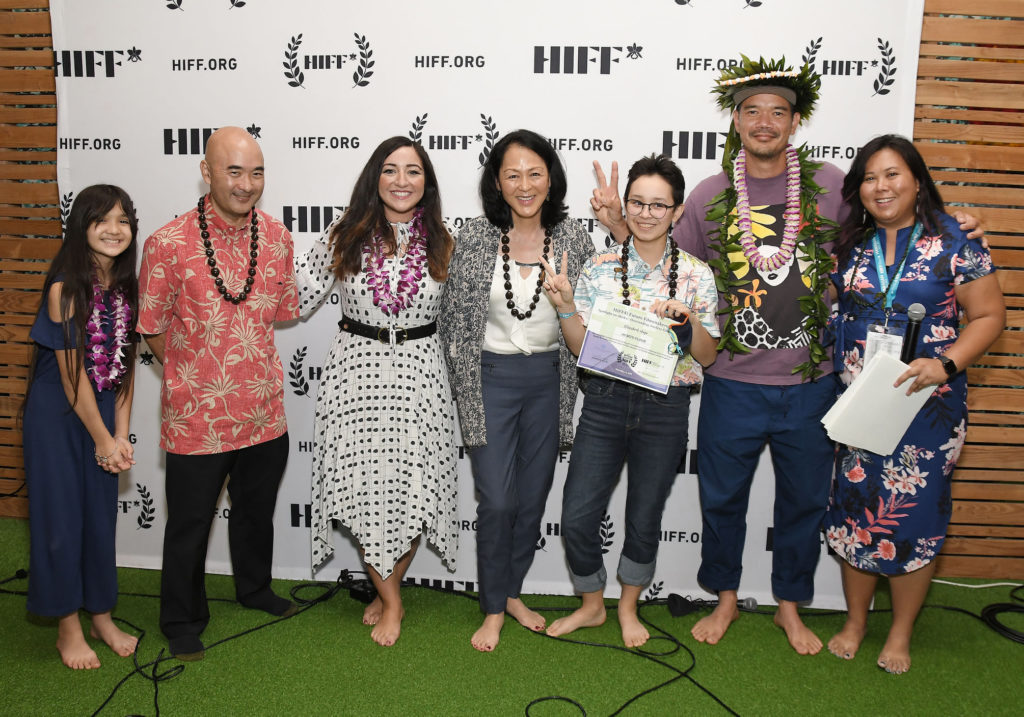 New this year is our Spotlight on Alaska category! Featured this year is a short film titled A HERO'S CLIMB by Nicholas Hope, a middle school student from Juneau, Alaska.
The Daniel K. Inouye Institute was established in 2013 to preserve Senator Inouye's papers and tell his life story; support STEM education, civics learning and international educational-cultural exchanges; and establish a repository of the Asian American/Pacific experience.
This contest is also supported by the YOMYOMF Foundation, which supports Asian Pacific American artists as well as artists from other traditionally underrepresented communities who wish to pursue careers in film, TV, theater and new media.
The mission of the Ted Stevens Foundation is to recognize and honor the Senator's career in public service, and to apply his legacy of bipartisanship and collaboration through outreach and education.  In this spirit, the Foundation works with organizations to inspire the next generation of leaders in critical thinking, community advocacy, and respect for cultural and civic engagement.
Perseverance Theatre is Alaska's largest professional theatre, and a non-profit organization serving over 21,000 artists, students, and audiences annually. PT's mission is to create professional theatre by and for Alaskans, with a focus on community engagement, cross-cultural and cross-racial collaboration, professional rigor, and regional/national voice.