Watch the HIFF41 presentation of MONEYBOYS online
November 15 – November 28, 2021
Anderson Le: What was the inspiration for MONEYBOYS?
First of all, "Moneyboys" never intended to seduce the audience with explicitly dramatized documentary insight of a hustler´s daily work life to foster the voyeurism in every one of us. I don't like the idea of exposing people and their life in order to fulfill an idea of "realism". So, in my film it's not about being "realistic" in any way. Instead I tried to "distillate" out of interviews I made with sex workers and social surveys the core or essence of the troubles they have with families and society.

Some people sacrifice themselves for an idea, for the fatherland, the family or friends, to give them a better life. They are revered – perhaps too often – as heroes. Fei is someone who sacrifices himself for his family and friends, but his self-sacrifice is not recognized because he falls outside the order of society and his family. He seeks recognition and love from those who exclude him.

This is a theme that I also deal with again and again in my films and screenplays: To what extent can I be there for others without hurting myself? At the world premiere in Cannes, on the stage, I felt the wish to address all the Feis in this world: "Before you devote yourself to others, before you sacrifice yourself for your family, for your friends and for your beloved ones, you have to take care of yourself. And you have to love yourself truly first."
AL: Although the film is set in South China, it was primarily shot in Taiwan.
During pre-production, which lasted several years, China changed rapidly. Overnight, the then relatively large freedoms in subject specifications and filming regulations for domestic and foreign teams, were restricted. At the same time, a famous actress disappeared from the media scene for several months. The actors we had cast turned us down with regret. Almost half a year before shooting started, I flew to Taipei for the first time, and stayed there until after the shoot. We received friendly support from the Taipei Film Commission, which also contributed financially to our project.
AL: I very much like your directing style, which is very deliberate and measured. I have read that you were mentored by Michael Haneke. Can you talk about your directing influences?
In the early films of Taiwanese master director HOU Hsiao Hsien, I can still find places and traces of my childhood. Even in some films of the Japanese old master, Yasujirô OZU, I find heartfelt moments and the kindness of people that I could experience in my childhood.

The surreal stories of Buñuel and the sensuality in the images of Wong-Kar Wai, the harsh realism of Haneke's "The Piano Teacher," the imaginative power of sound in Takashi Miike's "Audition" showed me what unimaginable things you can do with movies.

There must be so many things stored in my subconscious mind. One of the most important skills as a director I have learned from Haneke is to be precise, to be consequent, and to protect your actors and artists. It's all about creating a trustworthy environment and space of freedom, so that they can flourish in their roles. And I understood how important it is for a director to have a solid knowledge about the different handcrafts involved in making a movie. To be acquainted with camera, lighting, editing, script writing etc. helped me a lot to understand the needs of each involved profession.
AL: You cast Kai Ko as your lead. Audiences know him from another famous Taiwanese film, YOU ARE THE APPLE OF MY EYE, as well as THE ROAD TO MANDALAY. How was it working with him and the rest of your cast?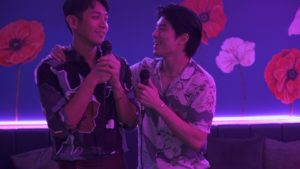 I am very thankful for Kai Ko's participation. Kai Ko, who plays the main character, Fei, is an actor with great talent. He is the kind of actor who can joke with the other team members half a minute before shooting, and then dive into his role immediately as soon as "action" is called. His talent, passion, empathy, energy and time brought the hero of "Moneyboys" to life and I wish he will receive the recognition he truly deserves for his subtle performance.
This honor would also be an achievement for the whole cast since every talent rehearsed on the same day for the long sequences due to our tight schedule. To work with plan sequences demands much concentration from all the actors. Thanks to the autonomous work of the main actors, I was could invest more of the small amount of time I had on the set in the supporting actors whom I could not meet before shooting.

JC Lin, Yufan Bai and Chloe Maayan are equally talented and were able to work independently without much intervention from my side. Chloe, who had previously won several awards for her lead role in "Three Husbands", actually plays three different roles in "Moneyboys" – these three female characters stand in for the mother who dies in Feis absence. For Fei they represent something like an idea of an universal, unconditioned motherly love. Their kindness surrounds Fei in a way, fills his heart and his whole body with an energy, that empowers him to pass this love on to others.
AL: Your film world premiered in the Cannes Un Certain Regard. How was it, as an artist, to have your film premiere in the crème de la crème of film festivals?
It was always my goal to make it to Cannes with my film. And luckily it worked out. I am thankful to the Cannes Film Festival recognized the effort my team and me invested for so many years to tell a story about selfless people like Fei. Film Festivals like Cannes, but also the Hawai'i International Film Festival give us a platform to encourage these hidden heroes, by showing them our solidarity.
AL: You are beginning your director's journey and immediately ushered onto the world stage. Congratulations on a great debut. What are you working on next?
Generally I work in different genres, and with different settings. For example I started a screenplay with a historical theme about life in the seventies in France, and I'm writing a science fiction script called "Zero" on the side.

My next project, "Pureland," continues to develop the topics of Moneyboys, but in a very different social circumstances – the migrant milieu in big European city. The new film will be more hopeful, bolder, louder, so all in all: less melancholic than Moneyboys. It is about a young man from the middle class who is ashamed of his homeless father. Eventually he is able to break away from his family roots and joins a militant group of sex workers. "Pureland" will be shot in Europe. We are looking for production partners right now.
---
Watch MONEYBOYS online, November 15 – November 28, 2021
Keep up with C.B. Yi's work via his Instagram
Anderson Le is the Artistic Director of the Hawai'i International Film Festival. Read up on HIFF41's Spotlight on Taiwan presented by Ministry of Culture ROC and Taiwan Academy of Los Angeles.