As exclusively reported in Variety, the 43rd edition of the Hawai'i International Film Festival (HIFF43) presented by Halekulani announced its jury winners and celebrated its Awards Gala Honorees at a private event held at the Halekulani Hotel. In its 2023 iteration, the organization awarded $23,500 in cash prizes to filmmakers across respective categories.
HIFF43 HONOREES
Each year the HIFF Awards Gala Honorees are celebrated outstanding artists for their commitment to excellence in their field. For 2023, we celebrated stars from the Asia-Pacific Rim with the following honorees:
HIFF43 HALEKULANI MAVERICK AWARD – DON LEE (MA DONG-SEOK)
HIFF's Halekulani Maverick Award is given to an international cinema artist who has a unique and eclectic career trajectory, contributing to international cinema and the filmed arts in an innovative way. This maverick does things on his or her terms, creating work that can have a rabid, cult following to a mass appreciation in today's pop culture. For HIFF43, the Festival honored DON LEE, who has become a global superstar, who vacillates between Asia and the West. From his game changing supporting role in TRAIN TO BUSAN to the mega-success of THE ROUND UP franchise (garnering over 30 million admissions in South Korea alone), he has cross-cultural appeal unlike any Korean star working today. In his acceptance speech, he surprised the audience when he said he used to live in Honolulu in 1990, working as a dishwasher in a Japanese restaurant, and now coming back over three decades later to present his latest, THE ROUND UP: NO WAY OUT, to a sold out audience and to accept this award, was truly humbling. 
HIFF43  HALEKULANI VANGUARD AWARD – SAKURA ANDO
HIFF's Halekulani New Vanguard Award is the Festival's "rising star" award, honoring an established creative in their own home region, who has placed their national cinema on the map through international acclaim. The New Vanguard honoree has navigated international cinema to  leave an indelible mark on audiences  around the globe. Japanese acclaimed actress Sakura Ando was bestowed with this award as her country's best actress working today. The Festival also presented two of her latest films, BAD LANDS (dir: Masato Harada) and MONSTER (dir: Hirokazu Kore-eda), which opens November 22nd in NY and December 1st in Los Angeles,  released by Well Go USA. 
HIFF43 LEANNE K. FERRER TRAILBLAZER AWARD PRESENTED BY PACIFIC ISLANDERS IN COMMUNICATIONS – CLIFF CURTIS
Celebrated Māori actor/producer Cliff Curtis (ONCE WERE WARRIORS, WHALE RIDER, THE DARK HORSE) has had a long, storied career in Hollywood for over three decades and is considered one of the most versatile actors working today, playing a myriad or roles and ethnicities over the years. He said that at this stage in his career, he is wanting to give back and mentor the next generation of Pasifika actors as the push for authenticity and diversity becomes the norm in mainstream filmmaking. Over the weekend, Curtis led a masterclass with other Pasifika actors to discuss the nuts and bolts of acting and to inspire the new class of Pasifika actors to fight for accurate portrayals. He said, "my goal is to no longer play a Native Hawaiian role, which should be played by a Hawaiian. My goal is to be obsolete." 
KAU KA HŌKŪ AWARD 
The Kau Ka Hōkū (Shooting Star) Award presented by Hawaiian Airlines is awarded to an international emerging filmmaker (first or second feature film). Both fiction and non-fiction feature films are nominated by the festival programmers and adjudicated by an international jury. 
This year's Kau Ka Hōkū Award grand jury award winner is ASOG directed by Seán Devlin. ASOG is a tragicomic road film that follows a non-binary Filipino comedian pursuing their dream of becoming a pageant Queen. As this year's Kau Ka Hōkū winner, ASOG was a recipient of a $1,500 cash prize made possible by Sight & Sound Productions – Hawai'i.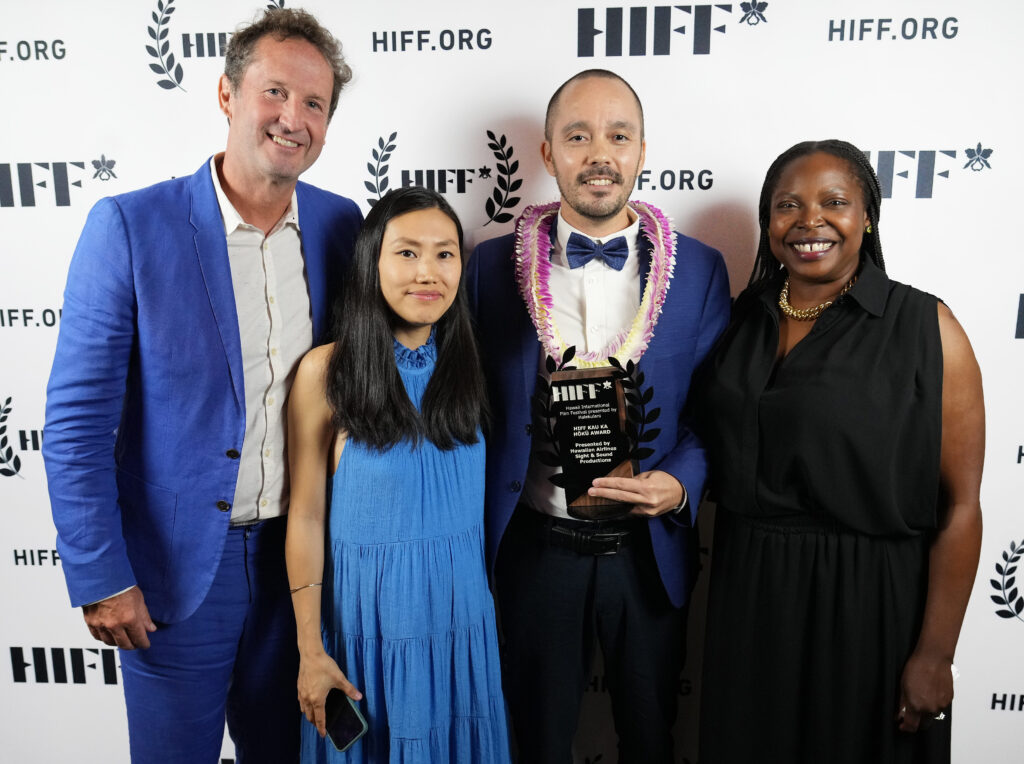 The jury shared "With its audacious hybrid approach to narrative; blending fiction and non-fiction; and for its artistry, originality, passion, and levity while tackling serious issues such as transphobia, the devastation wrought by climate change and colonialism with complexity, this work signals the emergence of an exciting new voice in cinema."
The jury also provided Honorable Mention for performance to MUSTACHE directed by Imran Khan and TIGER STRIPES directed by Amanda Nell Eu. On MUSTACHE, the jury stated "Writer director Imran Khan infuses an impressive jolt of energy and style which makes it such an exciting discovery. And his smartest choice was casting Atharva Verma in the lead role. He delivers an unforgettable performance that perfectly embodies the range of emotions and insecurities of being a teenager. He is truly a rising star and I can't wait to see what he does next."
On TIGER STRIPES, the jury applauds the film's exciting discovery of first time actress Zafreen Zairizal who plays the 12 year old Zaffan, who compels with raw and natural assurance stating, "We were captivated by her free and spirited performance, not to mention the absolutely delightful dance sequences she commands with such joy and strength."
The 2023 KAU KA HŌKŪ AWARD Jurors are: Jacqueline Lyanga, US Delegate, Berlinale; Sarah Kim, film producer (I WAS A SIMPLE MAN); Trevor Groth, film producer, 30West.
NETPAC AWARD
The Network for the Promotion of Asian-Pacific Cinema (NETPAC) is an international not-for-profit organization dedicated to promoting Asian and Pacific film throughout the world. The prestigious NETPAC award is given at select international film festivals to promote Asian and Pacific cinema by spotlighting exceptional works and discovering new talent. The NETPAC award is presented annually at international film festivals in Berlin, Cannes, Venice, Toronto, Rotterdam, Busan, Singapore, Taiwan, Yamagata, Amiens and Hawai'i. HIFF is the only film festival in the United States granted permission to present the NETPAC award.
The 2023 NETPAC/USA Award Winner is IF ONLY I COULD HIBERNATE, directed by Zoljargal Purevdashi, selected by the jury for "its insightful and cinematic portrayal of a teenage boy's arduous journey to keep his family warm, while pursuing an alternative future through the promises of a better education."
The 2023 NETPAC Jurors are: ​​George Wang, Professor, School of Cinematic Arts at University of Hawai'i at Manoa;; Gemma Cubero del Barrio, filmmaker (THE ISLAND IN ME); Yuka Sakano, head of international relations of Kawakita Memorial Film Institute.
PASIFIKA AWARD
HIFF partnered with Pacific Islanders in Communications (PIC) to present the Pasifika Award for Best Feature Film. The 2023 Pasifika Award Winner and recipient of $5,000 cash prize is NO MĀORI ALLOWED, directed by Māori filmmaker Corinna Hunziker. In NO MĀORI ALLOWED, a teacher unearths a 'secret' past in the town of Pukekohe, Māori community figures come forward to share personal stories that shaped their lives.
The jury stated: "This project captured the essence of both heartbreak and healing of a community. It spoke to the importance of respect, communication, and solidarity across generations. And it empowered mana wahine in the way it created space for them to share some confronting truths, inspiring others to do the same."
The 2023 Pasifika Jurors are: Dr. Aaron J. Salā, president and CEO of Gravitas Pasifika; Brook Lee, Miss Universe 1997, host "Modern Wahine Hawaii"; Kristian 'Krit' Fanene Schmidt, co-founder and executive director of the Pasifika Entertainment Advancement Komiti [PEAK].
HIFF BEST SHORT FILM AWARD
This year was significant for HIFF, having received a record of short film submissions, numbering over 2,000 and is designated as a festival of discovery for Asian-Pacific, locally-produced, and Kānaka Maoli cinema. 
This year's HIFF Best Short Film Award winner, also Academy Award® qualifying for short film, is CLOSING DYNASTY directed by Lloyd Lee Choi; a short about a small slice of life in a big, fast-moving place known for constant change. 
The jury shared: "This short tells a magical, cinematic, and expertly written story of a young girl growing up in a neighborhood that while ubiquitous to many, has never really been shown in the cinematic light it deserves to be shown in."
HIFF also partnered with the U.S. Department of Energy's Water Power Technologies Office to present a $5,000 cash prize for the Deep Blue Environmental Shorts Award to SPEAR, SPATULA, SUBMARINE: FLORIDIANS FIGHT TO TAKE BACK THEIR WATERS directed by Shannon Morrall.
The jury stated: "The power of documentary films is that they illuminate the average person to a global, social, and political issue we have been completely blind to. SPEAR, SPATULA, SUBMARINE: FLORIDIANS FIGHT TO TAKE BACK THEIR WATERS, opens our eyes to the perilous destruction that the invasive lionfish has brought to the Atlantic, Gulf and Caribbean oceans. Left unchecked, the lionfish will destroy the delicate ecosystems in these oceans."
The 2023 HIFF Short Film Jurors are: Ben Braun, manager of acquisitions & distribution at Submarine Entertainment; Radium Cheung, director & cinematographer; Steven K. Tsuchida, director (A TOURIST'S GUIDE TO LOVE).
MADE IN HAWAI'I FILM AWARDS
Now in its seventh year, the Made in Hawai'i Film awards focus on the dynamic and flourishing local independent film scene that strives onward in the Hawaiian Islands. Fiction, Non-fiction and short films that are made by locally-based filmmakers or involve locally-based stories are eligible for the Best Made In Hawai'i Award. which comes with cash prizes supported by the Nichols Family Film Fund. To date HIFF has awarded $70,000 in cash prizes to the local filmmaking community through the Made in Hawaii Award. The HIFF Made in Hawai'i film program is supported by Hawai'i State Film Office and Nichols Film Fund. All films are eligible to be showcased on Hawaiian Airlines as part of HIFF's ongoing in-flight programming.
The Made In Hawai'i program told a range of stories, reflecting the diversity of talents and perspectives coming out of Hawai'i. This year's Best Made In Hawai'i Feature winner is HŌKŪLE'A: FINDING THE LANGUAGE OF THE NAVIGATOR, directed by Ty Sanga.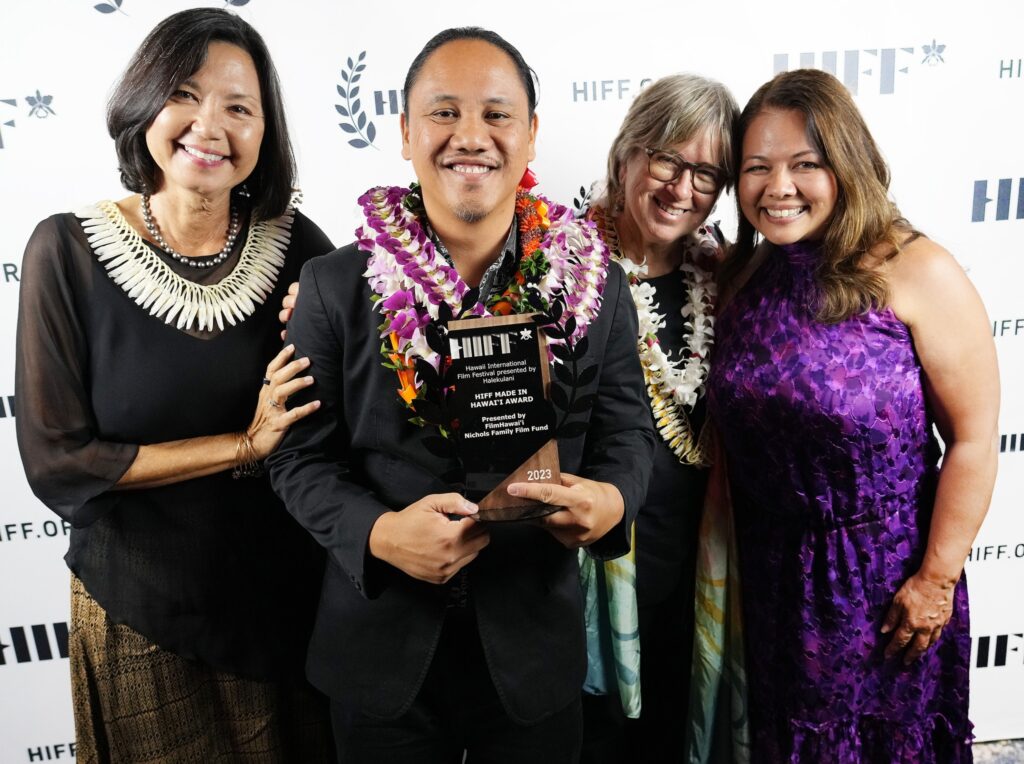 The jury shared: "Ty Sanga thoughtfully presents a fresh perspective on the iconic canoe by focusing not on the boat itself but the people and elements around it which allow the Hokule'a to reach ever new horizons. Passion is evident in front of and behind the camera, as both the film crew and that of the Hokule'a expertly navigate many elements with the support of buoyant music and crisp, professional editing. This is a film built on tradition, one which inspires us to imagine a better Hawai'i attainable only by looking ahead through the lens of Pasifika heritage." 
The Made in Hawai'i jury also presented an Honorable Mention in the feature film category to MY PARTNER, directed by Keli'i Grace. They stated, "… A groundbreaking film for the islands and an ambitious feature debut by director Keli'i Grace. The inclusion of Olelo Hawai'i and Tagalog adds a specificity rarely seen even within mainstream local media, and the fantastic costuming and luminous acting across lead and supporting roles make this narrative feature a joy to watch."   
The Made In Hawai'i jury also recognized AIKĀNE directed by Daniel Sousa, Dean Hamer and Joe Wilson for Made In Hawai'i Best Short Film. Under HIFF's designation as an Academy Award® qualifying festival for short films, AIKĀNE is eligible to qualify.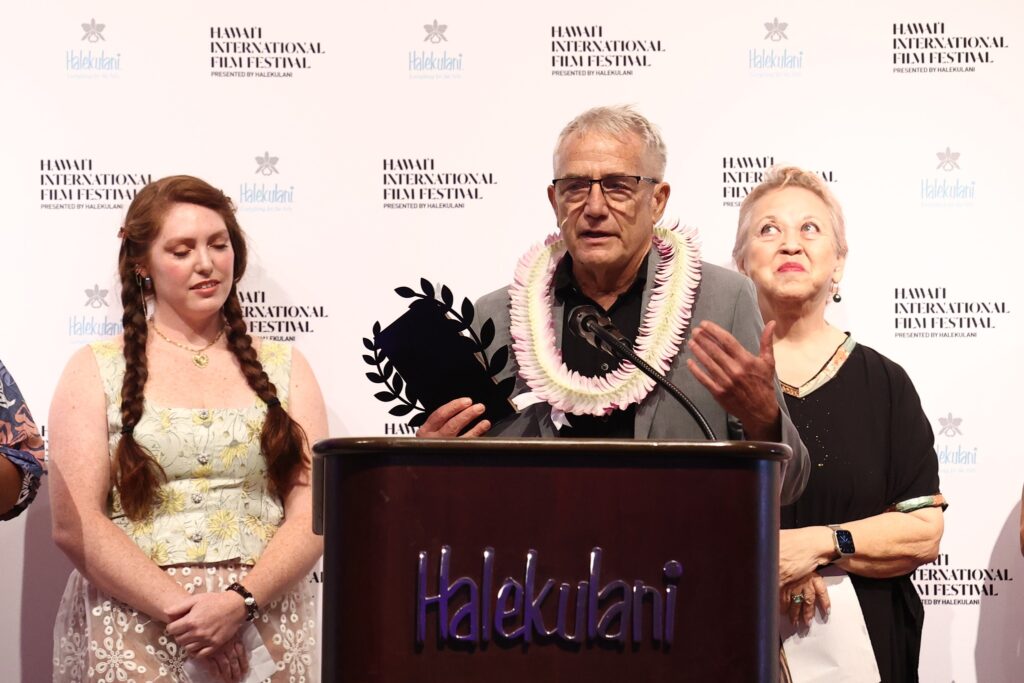 For AIKĀNE, the jury shared: "AIKĀNE is a masterful work of animation and global storytelling, combining familiar Hawaiian elements with an imaginative world unlike any seen before. This is a film with a beating heart worn on its sleeve and the expressive faces of its characters, thanks to the careful thought put into character and sound design. Together, these filmmakers continue to surprise and delight HIFF audiences following their successful short THE HEALER STONES OF KAPAEMAHU, and we can't wait to follow them on their next journey."
KALA directed by Matt Yamashita and SUNSET ON 44 directed by Devan Fujinaka received Honorable Mentions.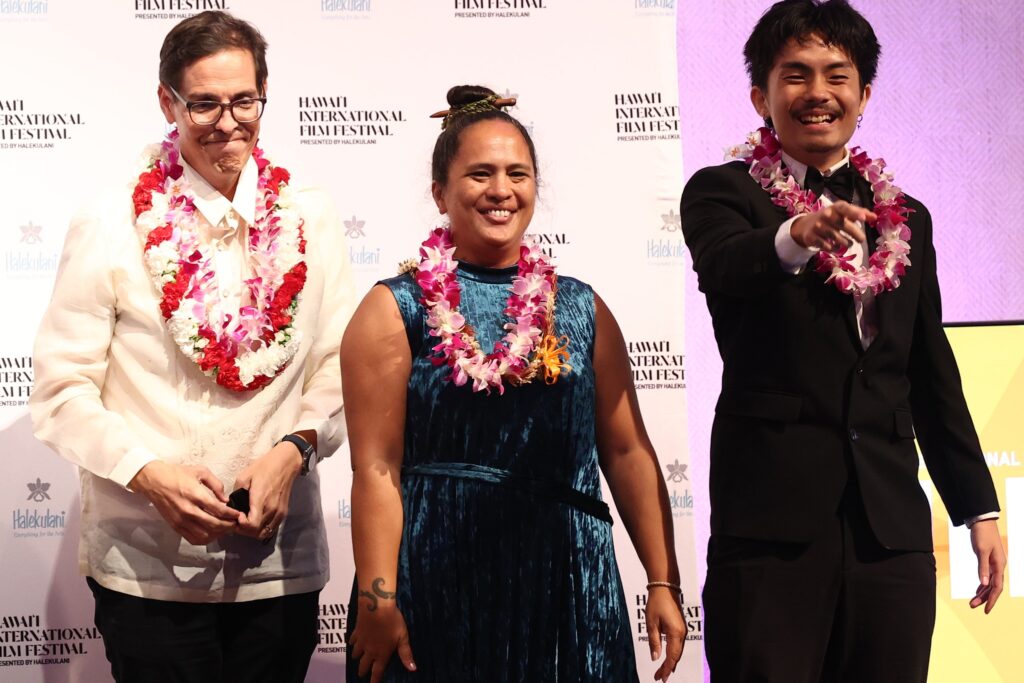 The jury stated "KALA grounds itself with poignant flashbacks and beautiful establishing shots of the islands' natural beauty, emphasizing the invisible ties that bind us to the 'aina and each other." 
On SUNSET ON 44, the jury shared "SUNSET is an actors' showcase as the film rests the weight of the world on its protagonists shoulders, often following the talented lead actor Kian Talan from behind as he fights against fate for his younger sister. The thoughtful editing and cinematography imbue the film with tension and energy that keeps the audience on the edge of its seat."
The 2023 HIFF Made In Hawai'i Jurors are: Amy Hill, actress (MAGNUM, P.I.); Angela Laprete, producer (THE WIND AND THE RECKONING), co-founder of International Cultural Arts Network; Camille Muth, creative executive at wiip.
HIFF x BMW DRIVEN STUDENT FILMMAKER AWARD
The inaugural HIFF BMW DRIVEN STUDENT FILMMAKER AWARD is dedicated to celebrating and supporting a local Hawai'i university student filmmaker. HIFF's Student Filmmaker Committee, made up of students across the state, were given the opportunity to curate the HIFF43 University Showcase from over 60 submissions, and select the 'best short film' the Program. The BMW HAWAII DRIVEN STUDENT FILMMAKER AWARD includes a $3,000 cash prize in sponsorship of continued film education, made possible by BMW Hawaii.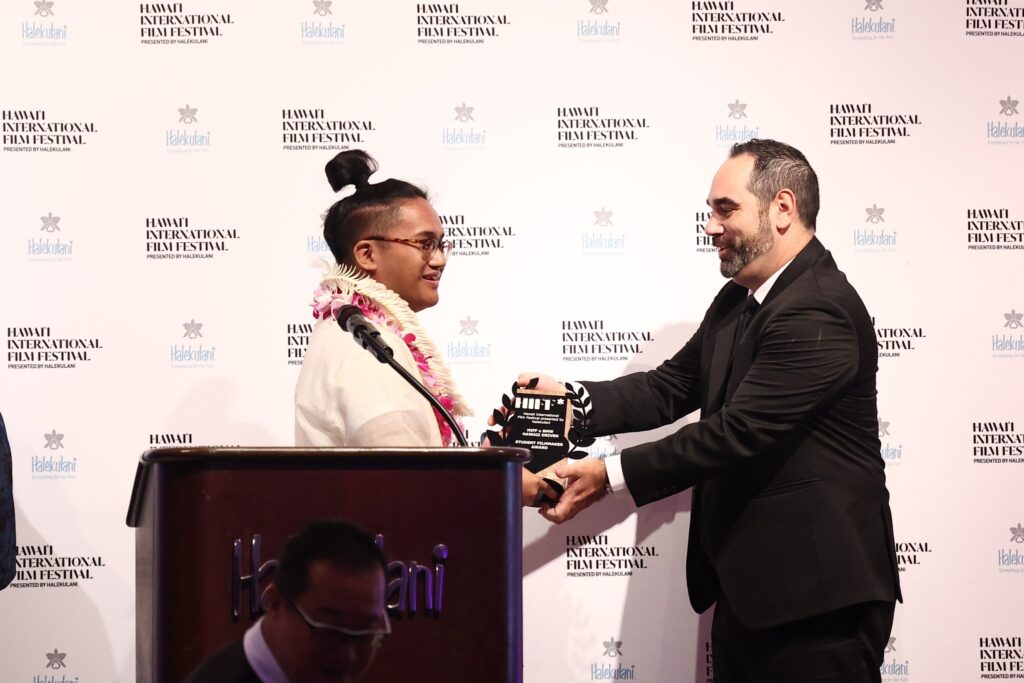 The Student Filmmakers Committee at HIFF selected KUNYARI, directed by Justin Gerald Ocampo, and felt that the film offered an intimate perspective into love and longing, as well as cultural themes of duty and the importance of family. The jury adds "Its strong aesthetic choices, well-written characters, and dreamy cinematography create a genuine and refreshing portrayal of Filipino culture. In a time of divisiveness, this story highlights love in all of its forms through an underrepresented lens."
The Student Filmmakers Committee at HIFF also granted GOING UP? and PIDGIN KAUA'I STYLE each an Honorable Mention for their representation of local culture in Hawaii that connects to audiences across the islands. The heartwarming animated film GOING UP directed by Dillon Valenzuela, artfully showcases the Aloha spirit through its strong visual choices and thoughtful storytelling. The short documentary PIDGIN KAUA'I STYLE, directed by Erica Byers, presents a new take on the pidgin language by capturing a genuine conversation between local wahine, illustrating how language brings people from diverse communities together.
JEANNETTE PAULSON HERENIKO HIFF LEGACY AWARDS: 
The Jeannette Paulson Hereniko HIFF Legacy Award was created by HIFF Executive Director Beckie Stocchetti in 2022 in honor of HIFF Founder Jeannette Hereniko, the awards first recipient. The HIFF Legacy Award acknowledges the often underappreciated and undervalued individuals and organizations that dedicate immeasurable time, finances, and resources to support the creative industries and who strive to build sustainable futures in filmmaking in Hawaii and across the Pacific.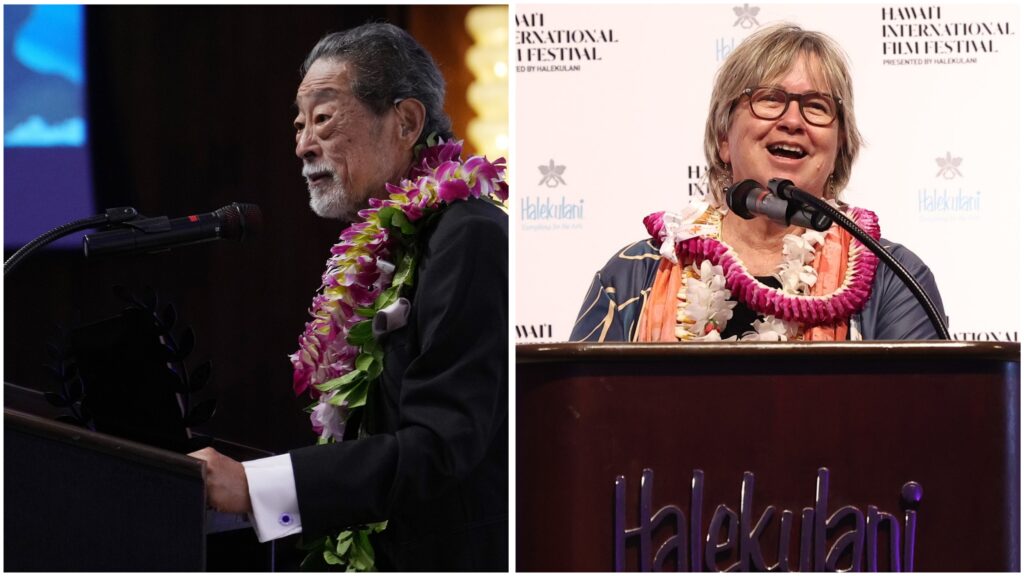 In 2023, HIFF recognized Isoo "Dick: Oshima, OCCPA LLC and Heather Giugni, 'ULU'ULU FILM ARCHIVE. Isoo Dick Oshima has been one of HIFFs biggest and most ardent supporters for over a decade. As a HIFF Board Member, Dick has dedicated countless hours, finances, and support in developing organizational strategy, community support, and financial success for HIFF in building film industry opportunities.  Dick, the co-owner of OCCPA LLC that serves hundreds of corporate and non-profit clients. Dick has served on boards including the Oahu Board of Taxation Review, Honolulu Waldorf School, Hawaii Tax Institute (HTI), and  is a past president of the Hong Kong Business Association of Hawaii (HKBAH). 
The Henry Ku'ualoha Giugni Moving Image Archive of Hawai'i is Hawaiʻi's official state archive for moving images. Dedicated to the care, preservation, and digitization of film and video related to the history and culture of Hawaiʻi, this space is an assembly of voices, communities, and stories; a gathering place for people to share Hawaiʻi's culture, traditions and collective memory. Heather Giugni and 'Ulu'ulu Film Archive strive to save, preserve, and make publicly available a visual record of Hawaii across generations, innumerable changes, and influences. 
Kau Ka Hōkū Award:
Kau Ka Hōkū Grand Jury Award:

ASOG (Directed by Seán Devlin)

Honorable Mention:

MUSTACHE (Directed by Imran J. Khan)

Honorable Mention:

TIGER STRIPES (Directed by Amanda Nell Eu)
Shorts Jury Awards:
HIFF Best Short Film Award

: CLOSING DYNASTY (Directed by Lloyd Lee Choi)

Deep Blue Environmental Shorts Award:

SPEAR, SPATULA, SUBMARINE: FLORIDIANS FIGHT TO TAKE BACK THEIR WATERS (Directed by Shannon Morrall)
 Pasifika Awards:
Best Feature Film:

NO MĀORI ALLOWED

(Directed by Corinna Hunziker)
NETPAC Award:
IF I COULD ONLY HIBERNATE (Directed by Zoljargal Purevdash)
Made in Hawai'i Jury Awards:
Best Made in Hawai'i Award Feature

: HŌKŪLE'A: FINDING THE LANGUAGE OF THE NAVIGATOR (Directed by Ty Sanga) 

Honorable Mention:

MY PARTNER (Directed by Keli'i Grace, written by Lance D. Collins)

Best Made in Hawai'i Award Short

: AIKĀNE (Directed by Daniel Sousa, Dean Hamer, Joe Wilson)

Honorable Mention:

KALA (Written and directed by Matt Yamashita)

Honorable Mention:

SUNSET ON 44 (Written and directed by Devan Fujinaka)
BMW Driven Student Award:
KUNYARI (Directed by Justin Gerald Ocampo)

Honorable Mention:

GOING UP (Directed by Dillon Valenzuela) 

Honorable Mention:

PIDGIN KAUA'I STYLE (Directed by Erica Byers)
Jeannette Paulson Hereniko HIFF Legacy Award:
Isoo Dick Oshima, OCCPA, LLC.

Heather Giugni, 'ULU'ULU FILM ARCHIVE
HIFF43 Awards Gala Honorees:
Maverick Award: Don Lee
Halekulani Vanguard Award: Sakura Ando
Leanne K. Ferrer Trailblazer Award Presented By Pacific Islanders In Communications: Cliff Curtis